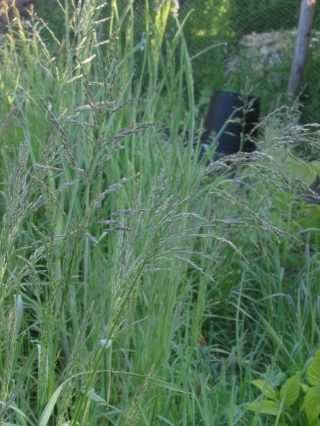 Photo ©2005 Rasbak
Click any photo for a larger image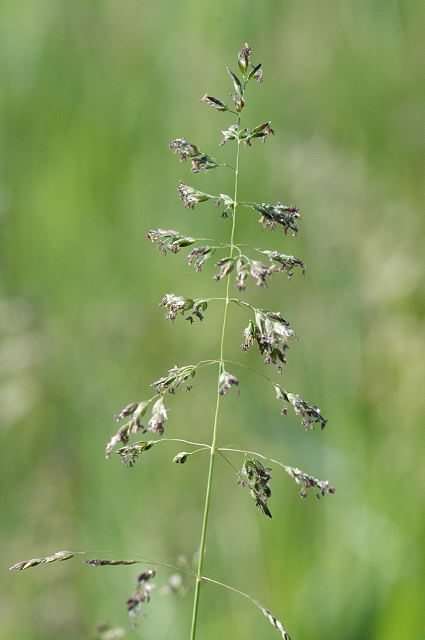 Photo ©2004 James K. Lindsey
Rough Meadow–grass - Poa trivialis
Family - Poaceae
Also known as - Rough–stalked Meadow–grass, Orcheston Grass
Poa trivialis is a native perennial grass common throughout the UK on damp grassland, marshes, open woods, ditches, rough and disturbed ground of clay soils favouring fertile ground. Useful for grazing, growing to 30–80cm (12–31in) on thin stems it can invade and infest arable fields. It is in flower from June onwards throughout the summer and is wind pollinated.
It has shiny leaves rather like Perennial Ryegrass, which are broad and tapering with tough sheaths that are very rough. Flowers in a multi–branched loose whorled panicle 15cm (6in) long of 4–6 purplish spikelets. It spreads by seed and from short stolons and has pointed ligules 4–10mm long. Compare to Annual Meadow grass which is silvery and pointed with smooth stems, and Common Meadow grass which is short and blunt.
Rough Meadow–grass is a food plant for caterpillars of the Small Heath, Meadow Brown and Gatekeeper butterflies.
---
Site design ©1999– Brickfields Country Park - Privacy -