Perennial Ryegrass - Lolium perenne
Family - Poaceae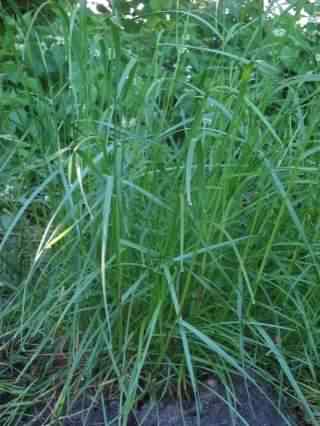 Photo ©2005 Rasbak
Click photo for a larger image
Lolium perenne, common name Perennial Ryegrass, is a grass from the family Poaceae. It is native to Europe, Asia and northern Africa, but is widely cultivated and naturalised around the world, the Ryegrass genus should not be confused with Rye, which is a grain crop. Ryegrass is widely used in seed mixtures for lawns, grassed areas which forms a very dense, dark green, fine bladed turf with the proper maintenance. It is also used for pasture, grazing and hay for livestock, being a highly nutritious stock feed. There is a large range of cultivars with Perennial Ryegrass – L. perenne, being the primary species used worldwide both lawns and a forage crop, however some species are classed as weeds which can have an impact on wheat and other crops, also Ryegrass pollen is said to be one of the major causal irritants in hay fever sufferers.
The leaves are dark green, smooth and glossy on the lower surface, with untoothed parallel sides and prominent parallel veins on the upper surface. The leaves are folded lengthwise in bud with a strong central keel, giving a flattened appearance. The ligule is very short and truncate, often difficult to see, and small white auricles grip the stem at the base of the leaf blade. Leaf sheaths at the base are usually tinged pink and hairless. Stems grow up to 90cm.
The inflorescence is unbranched, with spikelets on alternating sides edgeways–on to the stem. Each spikelet has only a single glume, on the side away from the stem, and multiple fertile florets without awns. The anthers are pale yellow, and the plant flowers from May to November. Perennial Ryegrass has a fibrous root system, with thick main roots and thinner lateral branches.
---
Site design ©1999– Brickfields Country Park - Privacy -