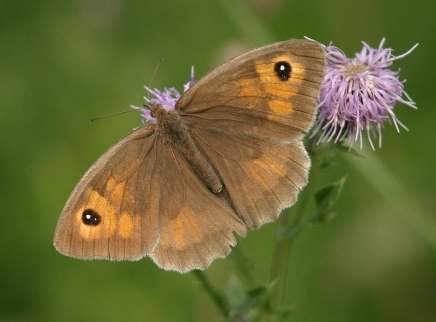 Meadow Brown butterfly
Photo ©2005 - Stuart
Wild About Britain


Click any photo for a larger image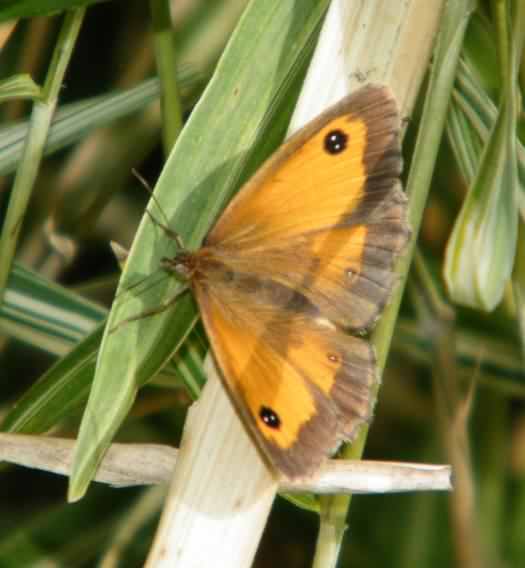 Gatekeeper butterfly
Photo ©2005–
Meadow Brown - Maniola jurtina
Family - Nymphalidae clade Satyrinae, formerly Satyridae
Found in open grassland, heathland, meadows, road verges, hedgerows, woodland rides, it can also sometimes be found in urban locations, parks and large gardens, throughout the UK (except the Shetland Islands), Europe (except the far north), and the northern tip of Africa. The Meadow Brown is one of our most widespread and resident UK species. They can be seen on the wing from mid May through to the end of October, with the males appearing a few days before the females. Usually only brood is produced per year but it is though that they might have two. Large numbers of individuals may be seen flying at any one time over vegetation or feeding on Thistles.
Adults can be found "nectaring" on Lavender, Thistles, Knapweed and Hemp Agrimony – Eupatorium cannabinum. With a wingspan of 40–50mm (1.5–2in), adult butterflies only live for around 5–12 days and usually mate within the first couple of days of their lives. Males are a dark dusky, or even velvety, brown on the upper surfaces of their wings with a vague, lighter patch towards the outside of the forewings. There is a single dark brown eyespot and a white pupil towards the tip of the forewings surrounded by a small brown halo. Females have a warmer brown colour on their upper surfaces, with a dull orange–brown broken patch towards the outside of the forewings, the eyespot is a prominent black with a single white pupil.
The Meadow Brown is most likely to be confused with the Gatekeeper (lower photo), however, the Meadow Brown never has an orange–brown patch or eyespot on its hindwing and typically only has a single white pupil in the eyespot on its forewing unlike the double pupil of the Gatekeeper. Very rarely, females have a double pupil to the eyespot whereas the male's eye spots can be blind. Meadow Brown caterpillars are a yellowish–green with a darker line down the back and a narrow white stripe along each side. They feed on various Grasses, hibernating over winter during its third larval instar. Meadow Browns are not listed as endangered on IUCN Red List 2000.
Agassiz #59.010, Bradley & Fletcher #1626
---
Site design ©1999– Brickfields Country Park - Privacy -