Common Meadow Grass - Poa pratensis
Family - Poaceae
Also known as - Smooth Meadow grass, Kentucky Bluegrass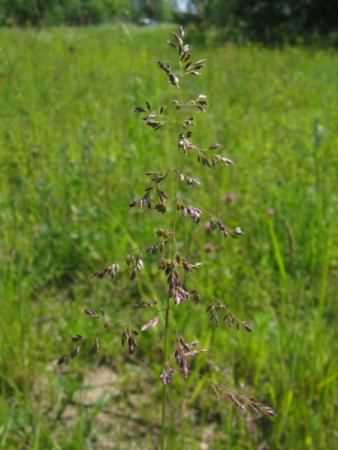 Photo ©2006 Fabelfroh
Click photo for a larger image
Poa pratensis is a herbaceous perennial tufted grass of well–drained, fertile soil growing from a creeping rhizomatous root structure to between 30–80cm (12–32in) high with erect smooth rounded stalks. It grows in grassy areas, sand dunes and meadows and forms a valuable pasture plant, it is also used for making lawns in parks and gardens. The leaves have boat–shaped tips, are V–shaped in cross section, narrowly–linear, up to 20cm (8in) long and 3–5mm (0.12–0.20in) wide, smooth or slightly roughened.
An open pyramid shaped panicle is 5–20cm (2–8in) long, with 3–5 branches in whorls, with each branch carrying several oval spikelets 3–6mm (0.12–0.24in) long with 2–5 florets which are purplish–green or grey. They are in flower from May to July. The "Bluegrass" name is derived from its flower heads, which are blue when the plant is allowed to grow to its natural height. It is native to Europe, Asia, North America, and northern Africa.
Poa pratensis is useful in grazing livestock and is also one the food plants for caterpillars of the Meadow Brown and Gatekeeper butterflies, both species to be found in Brickfields Park.
---
Site design ©1999– Brickfields Country Park - Privacy -