Photo ©2010 Meneerke Bloem
Click any photo for a larger image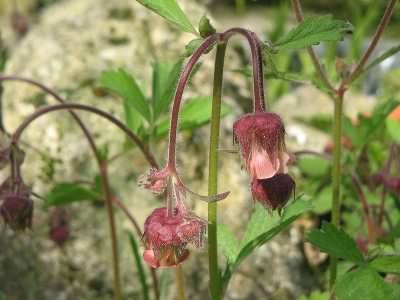 Photo ©2010 Meneerke Bloem
Water Avens - Geum rivale
Family - Rosaceae
Also known as - Soldiers Buttons, Indian Chocolate, Nodding Avens
Water Avens is native perennial to most of Europe, parts of Central Asia and North America where it is known as Purple Avens. It favours damp or wet soils usually growing in bogs and damp meadows, stream sides, pond edges and damp deciduous woodland. It produces nodding orange–pink flowers, larger than those of the Wood Avens, from May to September. It can tolerate mildly acidic to calcareous conditions in full sun or under partial shade.
Whilst it is self pollinating it is also pollinated mainly by bees, but also by flies and beetles, the stamens become longer as the flower matures ensuring self–fertilisation if not already cross–pollinated. It flowers earlier than Wood Avens ensuring the plant stays within the gene–pool of the single species, however they will hybridise readily given the opportunity. The fertilised flowers mature to a hooked capsule that is dispersed by getting caught on animal fur and clothing
FBCP do not advise or recommend that Water Avens – Geum rivale is eaten or used as an herbal remedy. Its roots smell like cloves and have historically been used to flavour drinks such as beer, and as a popular remedy in various medical conditions including pulmonary conditions and disorders of the stomach.
---
Site design ©1999– Brickfields Country Park - Privacy -