Sorrel - Rumex acetosa
Family - Polygonaceae
Also known as - Garden Sorrel, Sheep's Sorrel, Cuckoo Sorrow.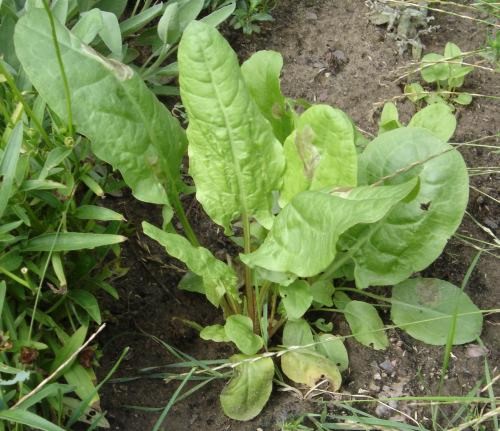 Photo ©2005 Panterka
Click photo for a larger image
Sorrel can be poisonous in large amounts.
Sorrel is a common perennial weed with green arrowhead shaped leaves and red–tinted deeply ridged stems growing to 60cm (24in) high from an aggressive rhizome. Flowers appear from March to November, emerging at the apex of a tall upright stem. yellow–Green flowers are male, reddish or purple are female, each developing on a separate plant (dioecious). Native to Europe and Asia, it is an introduced species elsewhere. It favors moist soil, and is often one of the first species to take hold in disturbed areas especially if the soil is acidic. In North America it is a common weed of fields, grasslands, and woodlands. Sorrel is a host plant for the Small Copper, also known as the American Copper. The lower leaves are 7–15cm (3–6in) in length, slightly arrow–shaped at the base, with very long petioles. The upper ones are sessile, and frequently become crimson. It has whorled spikes of reddish–green flowers, the stamens and pistils are dioecious.
FBCP do not advise or recommend that Sorrel – Rumex acetosa is eaten or used as an herbal remedy. Sorrel has deep roots as well as juicy stems and edible leaves, it has been a cultivated crop for centuries, the leaves may be used in soups and sauces or added to salads. The plant's sharp taste is due to oxalic acid, which is a poison. In small quantities Sorrel is harmless, in large quantities it can be fatal. Sorrel is widely considered to be a noxious weed, and one that is hard to control due to its spreading rhizome. It has been used as a beneficial treatment for scurvy, and the roots and seeds were used for their astringent properties. A decoction of the flowers made with wine, is said to cure jaundice and ulcerated bowels, and relieve kidney stones. Livestock will graze the plant but it is not very nutritious, it contains oxalates which make the plant toxic if grazed in large amounts.
---
Site design ©1999– Brickfields Country Park - Privacy -