Photo ©2006
Johanna Lance, FBCP
Click photo for a larger image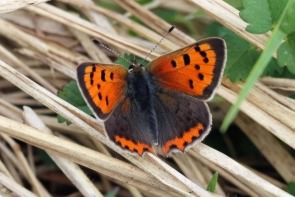 Photo ©2015 Charles J Sharp
Small Copper - Lycaena phlaeas
Family - Lycaenidae
Also known as - American Copper
Common and widespread throughout Europe and resident in the UK, the Small Copper is a very active beautiful butterfly that has a wingspan of 25–30mm (1–1.2in). Named after its bright copper coloured forewings, the upper side of which is a yellowish orange with a broad, brown margin and black spots. The hindwing is brown with an orange band near the margin. The underside of both wings are a greyish brown with a pattern similar to that of the upper side.
It will be found in a variety of rough grassland flying between April and November, it has two to three broods where the eggs are laid singly on the underside of leaves of the food plant. The adult butterfly feeds on nectar whilst the caterpillar feeds on the various species of Sorrel and Docks eating the surface of the leaf leaving a characteristic pattern of transparent areas.
The Small Copper hibernates as a Caterpillar. It will be found in grasslands, wasteland, heathland, embankments, road verges and woodland rides. This sun loving fast flying butterfly is often found resting on the ground, vegetation or flowers, absorbing the sun's rays, it flies up to intercept any passing butterfly. The bright green caterpillars are covered with tiny hairs. Information is that the Small Copper is the last remaining copper butterfly in Britain since the Large Copper became extinct in the mid 1800s. Re–introduction attempts of the Large Copper have apparently have been unsuccessful.
Agassiz #61.001, Bradley & Fletcher #1561
---
Site design ©1999– Brickfields Country Park - Privacy -