More photos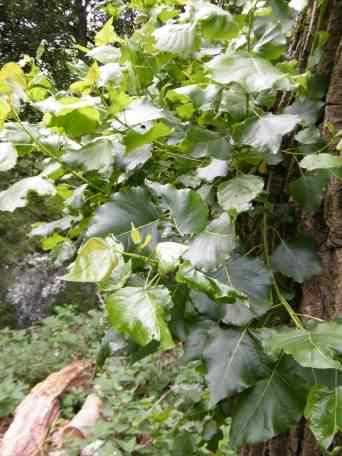 Photo ©2013–
Click for a larger image
Hybrid Black Poplar - Populus nigra
Family - Salicaceae
Large tree growing to 30m (98ft), with a trunk up to 2m (6.5ft) in diameter, often growing close to water. Fissured bark that looks black from a distance (giving the tree its name) is a dark grey–brown. Male trees produce dark red catkins known as "Devils Fingers" in the spring, whilst females produce lime green coloured catkins. Triangular toothed leaves, longer than wide with the widest part below the middle, with two tiny glands where the leaf joins the stalk. Softwood, resistant to abrasion, woolly texture, easily worked but not very good as firewood due to its low flammability. Easily propagated, they thrive in almost any soil.
The Black Poplar in general is a difficult tree to identify properly as the Black Poplar has many different hybrids that have been planted in Britain over the last two hundred years requiring specialist knowledge to tell them apart. On a recent visit (May 2019) the BBSI recorder for North Hampshire, Tony Mundell, confirmed our trees to be Hybrid Black Poplars.
Some leaves do have sessile glands at the leaf blade–petiole junction (Black Poplar never has these glands) and the young leaves do have minute hairs on margins (best with microscope).
There were no burrs on the trunks, upright but not fastigiate growth habit growth habit.
Lowest large branches do not curve downwards initially to the ground before rising (a very characteristic feature of Black Poplar). Crown probably originally rounded (but difficult to judge as all upper branches have been amputated!)
There are several named cultivars of P. x canadensis depending partly on leaf shape and the sex of the tree.
At least one tree is female (as stems with fruits were collected from the ground) and leaves from all the trees looked the same. Leaves are broadly cuneate at the base with a long tapering acuminate tip and rather hooked marginal teeth 2–3mm long.
Using the Multi–access key in Stace I deduce that the cultivar is either "Casale 78" (="I78") or "Regenerata" or "Marilandica". From the leaf shapes in Stace "Regenerata" can be ruled out as it is not cuneate. Using Poland it keys clearly straight to Populus "Marilandica". So that is what I'm sure it is.
FBCP do not advise or recommend that Poplars are eaten or used as an herbal remedy. The bark of the Poplar tree has been used for medicinal purposes as it contains Salicin, a glucoside that decomposes into salicylic acid (Aspirin) in the body having antiseptic, diuretic, expectorant and stimulating properties.
---
Site design ©1999– Brickfields Country Park - Privacy -