More photos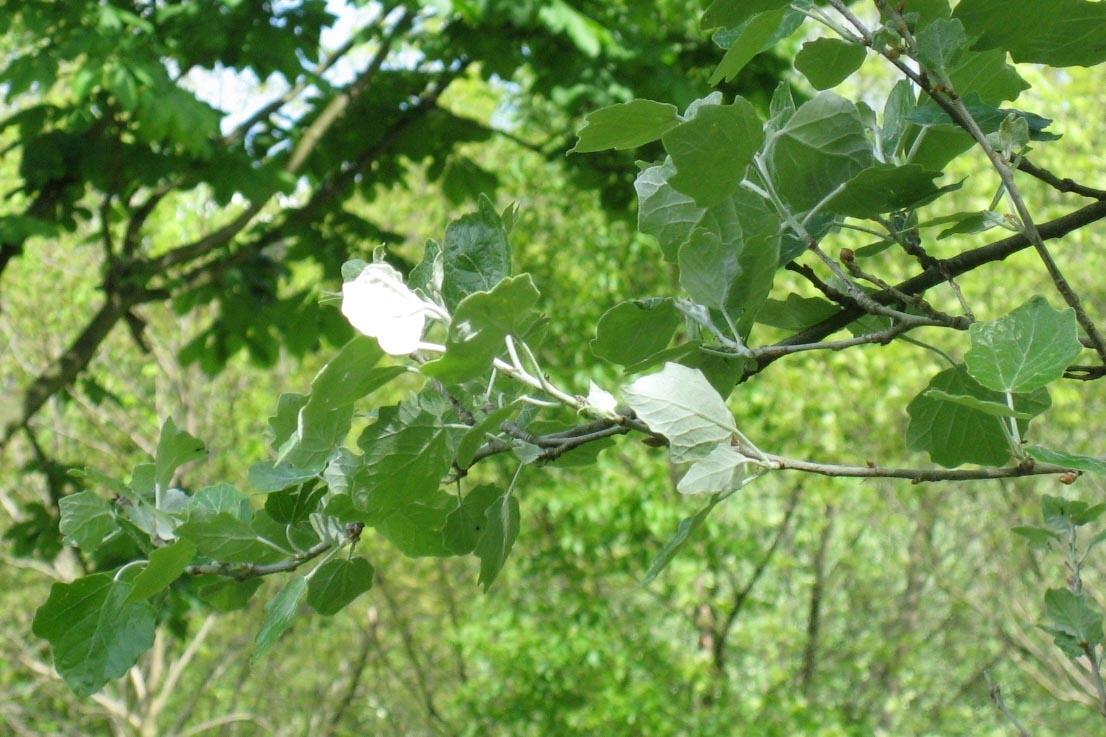 Photo ©2005 MPF
White Poplar - Populus alba
Family - Salicaceae
Also known as - Silverleaf Poplar
White poplar is a deciduous broad leaf tree native to central and southern Europe and naturalised as an ornamental in the UK and introduced to many other areas, it is considered an invasive species in Australia. It is closely related to Aspens. Preferring damp sites, water sides and riverbanks in temperate regions, it grows to heights of between 16–27m (52–89ft) with a trunk up to 2m (6.6ft) in diameter. The bark is smooth and greyish–white with characteristic diamond–shaped dark marks on young trees, becoming blacker and fissured when older. Young shoots and buds are covered with whitish–grey down. Leaves are 4–15cm (1.5–6in) long, five–lobed with an irregular toothed margin, again with a thick covering of white down on both sides which is thicker underneath the leaf.
White Poplar is a wind pollinated dioecious, with male catkins that are grey with conspicuous dark red stamens on one tree, whilst the female catkins a greyish–green on another hopefully local tree. After pollination the female catkins become longer growing to 8–10cm (3.25–4in) with several green seed capsules that mature into fluffy cotton–like seeds which fall in late summer. It is also capable of propagation by root suckers from the lateral roots forming localised colonies. The leaves are food for a range of moth caterpillars including the Dingy Shears, Pink–barred Sallow, Poplar Grey, Puss moth, Sallow Kitten and Yellow–line Quaker.
FBCP do not advise or recommend that Poplars are eaten or used as an herbal remedy.The bark of the Poplar tree has been used for medicinal purposes as it contains Salicin, a glucoside that decomposes into salicylic acid (Aspirin) in the body having antiseptic, diuretic, expectorant and stimulating properties.
---
Site design ©1999– Brickfields Country Park - Privacy -