More photos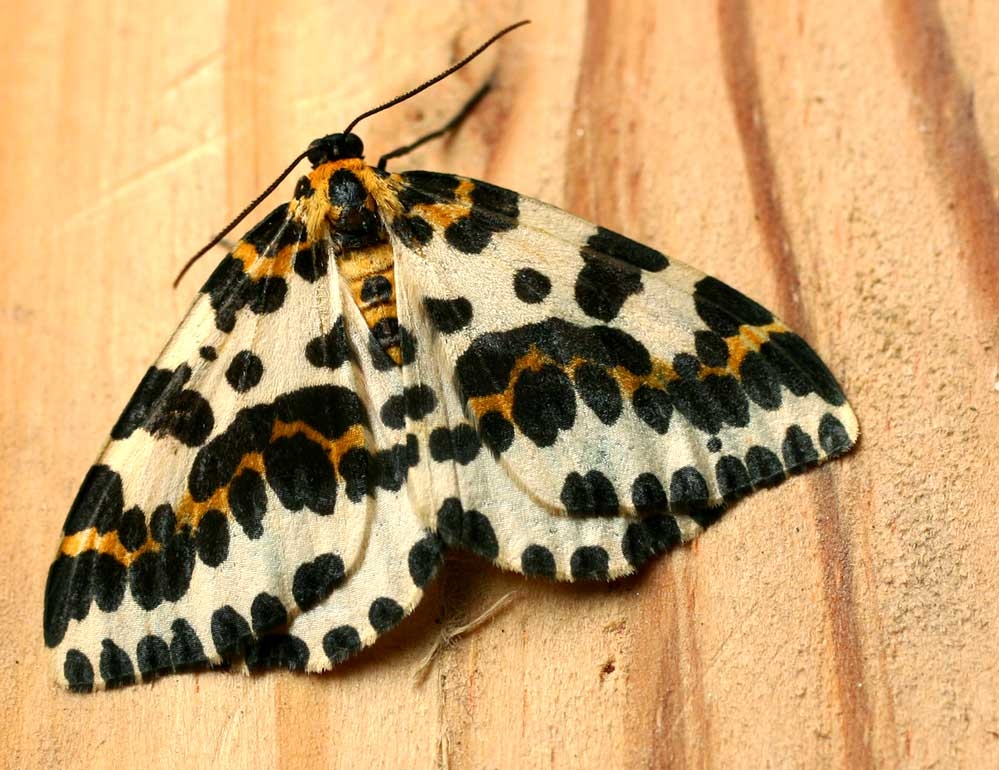 Photo ©2009 - Entomart
Click any photo for a larger image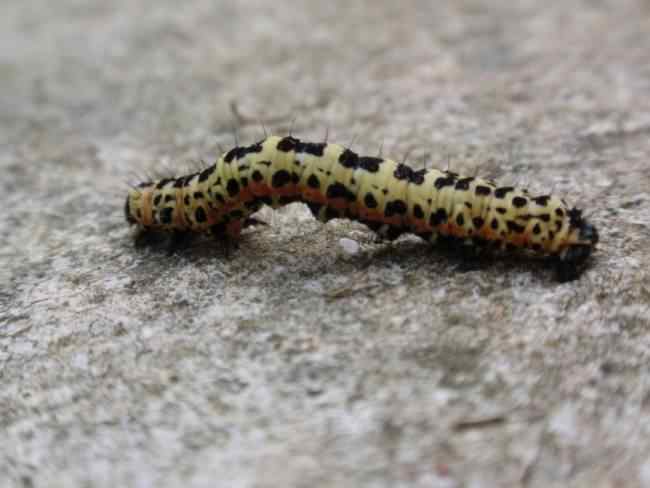 Photo ©2009 Acélan
Magpie moth - Abraxas grossulariata
Family - Geometridae
The Magpie moth is a very striking moth with a distinctive pale white, black and orange colouration. The forewings are a white background with six transverse bands of black splotches, the center two lines having an orange infill. Native within the Palaearctic ecozone, common and abundant throughout much of the British Isles but less so in the north, it will be found in gardens, open countryside, scrub, woodland edges, meadows and wooded areas on the wing from June to August. The forewings are 18–25mm (0.7–1.0in) giving them an overall wingspan of around 55mm (2.2in), hind wings are very similar but with only two rows of black splotches and no orange infill. The body is orange with black splotches. The Magpie moth is a variable species with several forms and subspecies.
The caterpillars conspicuous warning colours have a very similar yellow and black scheme to that of the adults but they are more regularly in patterned as opposed to the seemingly random pattern of the adults. They over winter as caterpillars and become adults the next year, pupating during May to June. Some of the food plants they have been found using are Redcurrant – Ribes rubrum and Blackcurrants – R. nigrum, Blackthorn, Hawthorns, Wild Privet, Hazel, Spindle – Euonymus europaea, Willows, Gooseberry and Bramble.
Similar species –
There are two other moth species with similar black, white and yellow markings, both of these are shown for comparison in the two images below to the right. These are the Clouded Magpie – Abraxas sylvata with a greater area of white background and two distinct groupings of orange and yellow patterns. The other is the Small Magpie moth, this species as suggested is smaller, it does not have the transverse central orange banding but does retain the orange wing roots of the Magpie moth.
Agassiz #70.205, Bradley & Fletcher #1884

Photo ©2009 - Entomart

Photo ©2015 Simon J Tonge

Clouded Magpie moth
Photo ©2014 Ivar Leidus

Small Magpie moth
Photo ©2009 Svdmolen.

Click any photo for a larger image
---
Site design ©1999– Brickfields Country Park - Privacy -