More photos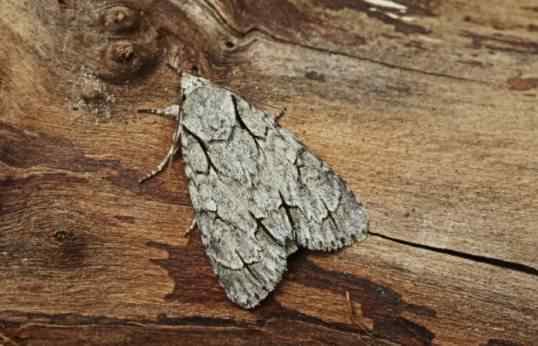 Photo ©2018 Entomart
Click any photo for a larger image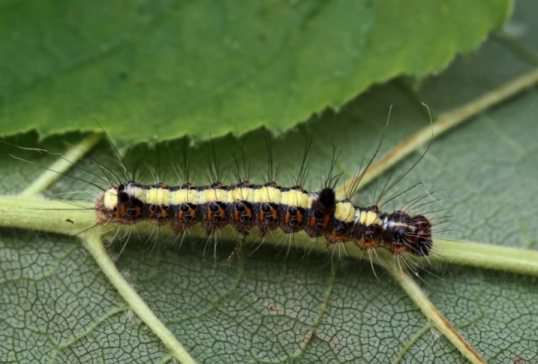 Photo ©2018 Entomart
Grey Dagger - Acronicta psi
Family - Noctuidae
Sub–family - Acronictinae (Dagger moths)
The Grey Dagger moth is a common species in the UK but scarcer in Scotland, it can also be seen in Europe, north Africa and central Asia. Its to be found in deciduous forests, hedgerows, parks and gardens. It has a wingspan of 30–45mm (1.2–1.75in), grey forewings with a distinctive black "dagger" mark that gives it and other Dagger moths their common name. The hind wings are an overall grey lacking any distinctive marks. The adult moth is very similar to the Dark dagger A. tridens which is lighter, however the larvae of the two are very different. It can also be confused with the Gray Dagger A. grisea, but this moth whilst having very similarly coloured and marked forewings has very pale white hindwings.
The Acronicta psi caterpillar is covered with long spiky setae or hairs, it is brown on its underside and black above, with red spots along the sides and a bold yellow stripe along the back, with a distinctive horn behind the head, this is absent from the Dark dagger's larvae. Adults are to be found from June to August usually as a single generation, however depending on conditions there may be a second generation in the south. Eggs are laid on the larval foodplant hatching within 7 days and fully grown in 30–35 days, the caterpillars feed on a wide range of deciduous trees including Oaks, Hawthorns, Birches, Blackthorn and English Elm, plants and shrubs, over wintering as a pupa.
The sub–family common name of "Dagger moths" refers to black dagger–shaped markings on the forewings that are common in the family. The Sycamore and Grey Dagger moths are other "Dagger" species found in Brickfields Park. Other common Dagger species include the Dark Dagger, The Miller, Alder Moth and The Knot Grass.
The Grey Dagger is a UK UK Biodiversity Action Plan listed species for research purposes as it has undergone a rapid decline in the last few years (65% over 25 years 1968–2002) from many factors, including habitat change, pollution and the use of pesticides.
The Grey Dagger is part of the Noctuoidea superfamily which now comprises just over 11,000 species after reorganisation of the some 20,000 species that were originally in the group. Noctuidae are commonly known as Owlet moths, there are however only five Owlet moth species grouped in the Mesogona genus.
Agassiz #73.038, Bradley & Fletcher #2284

Photo ©2006 Lilly M
Gray Dagger larvae –

A. grisea


The moth is similar but the larvae is quite different

Photo ©2018 Hectonichus

Photo ©2006 Olei

Photo ©2014 Simon J Tonge



Click any photo for a larger image
---
Site design ©1999– Brickfields Country Park - Privacy -