More photos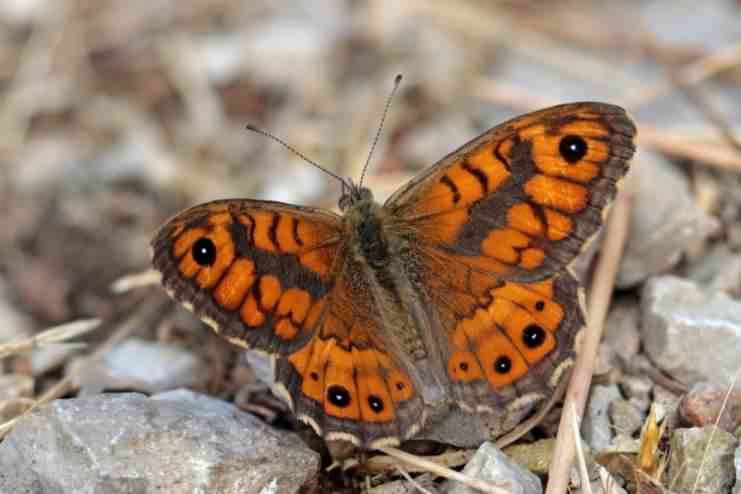 Male
Photo ©2019 Charles J Sharp
Click any photo for a larger image
Wall brown - Lasiommata megera
Family - Nymphalidae
The Wall Brown is widespread in the Palaearctic ecozone occupying a large variety of habitats and a variable number of generations in a year. Once common in the UK it has become rarer in inland counties and has been lost from many sites in central, eastern and south–east England, but with reasonable populations in more costal areas. It becomes rarer in Northern areas and is absent from the far north of Scotland. It can be found in woodland edges and clearings, scrub areas, unimproved grasslands, wasteland, cliff edges and hedgerows, gardens and field edges. The Wall Brown gets its common name from its habit of basking with partially open wings on any bare surfaces and walls. In very hot weather it will, however, retreat to shaded spots to avoid overheating. Seen from early May through to October usually in two broods and occasionally three.
With a wingspan of 42–53mm (1.6–2.1in) it is an overall dark brown butterfly, the forewings have clearly defined black termen with orange interspaces, a brown discal bar and an outer subapical black eye spot with a small white center. The rear wings are similarly marked but without the brown bar, two white centered black eyespots and two more smaller black spots. It could be confused with the Gatekeeper, but the Wall Brown is more heavily patterned and is more like some small fritillary butterflies. The female whilst slightly larger than the male with more extensive orange patches is an overall a paler hue to the male.
Small spherical eggs of about 1mm (0.04in), that are initially pale green but become translucent, are laid individually or in small groupings on the leaves of the foodplant, exposed roots and nearby vegetation. The caterpillar is a light green and finely hairy, it has a pale yellow side stripe with further very fine stipes along the back. It pupates head down in a cocoon which is attached by a thin thread to the foodplant or nearby vegetation, and is extremely well camouflaged. They over wintering as a third instars caterpillar.
The main larval food plants are the "Bents" group of several hundred grasses including; Common Bent and Creeping Bent, other grasses used are - Cock's–foot, False Brome and Yorkshire–fog - all found in Brickfields Park.
Agassiz #59.002, Bradley & Fletcher #1615

Male underside
Photo ©2016 Charles J Sharp


Click any photo for a larger image


Female
Photo ©2013 Jörg Hempel

Female underside
Photo ©2018 Charles J Sharp
Close window

Gatekeeper
Photo ©2005–
The Wall Brown butterfly is a UK Biodiversity Action Plan priority listed species for research purposes due to a large drop in numbers in recent times.
---
Site design ©1999– Brickfields Country Park - Privacy -