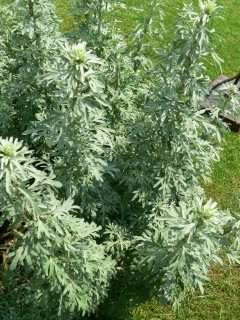 Photo ©2007 David Monniaux
Click any photo for a larger image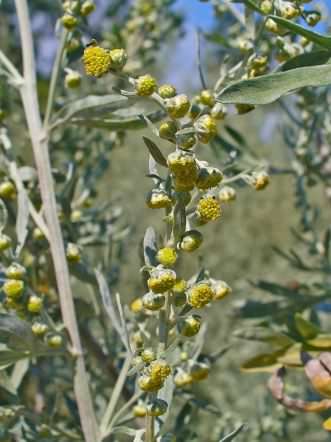 Photo ©2009 H. Zell
Wormwood - Artemisia absinthium
Family - Asteraceae
Also known as - Absinthe Wormwood
This plant is poisonous
Wormwood is a species naive to Europe, Asia, northern Africa and a naturalised introduction to the northern United States including Canada, with a hard woody rhizome growing in uncultivated and waste ground, rocky slopes, and at the edge of footpaths and fields. Although once relatively common in the UK, it is becoming rare and it has been suggested that it is an archaeophyte rather than a true native.
It is an herbaceous perennial growing to 0.8–1.2m (31–47in) tall on straight woody stems that are grooved and finely hairy, silvery–green with spirally arranged leaves, from a fibrous root system. The leaves are greenish–grey above and white below, covered with silky silvery–white trichomes, and bearing minute oil–producing glands producing a volatile oil with ingredients including silica, absinthin and anabsinthine, thujone, tannic and resins, malic acid, and succinic acid. They leaves vary in size and form from the base upwards with the basal leaves up to 250mm (9.8in) long, bipinnate to tripinnate with long petioles, with the stem leaves (cauline) gradually getting smaller and less divided, 50–100mm (2.0–3.9in) long. Leaves at the top of the plant are simple and sessile, IE without a petiole.
The flowers which are usually seen from late spring to early autumn, are a pale yellow, clustered in spherical drooping heads called a capitula, clustered in leafy, branched panicles. Flowering is from early summer to early autumn, wind pollinated (Anemophilous), fruiting to a small achene with seeds simply falling to the ground, so dispersal rates are low. Wormwood is listed as generally scarce in Hampshire and rare in north Hampshire.
FBCP do not advise or recommend that Wormwood – Artemisia absinthium is eaten or used as an herbal remedy. Grown as an ornamental plant it is probably better known as an ingredient in the spirit Absinthe, also colloquially known as the "Green Fairy" often portrayed as a dangerously addictive psychoactive drug and hallucinogen. It has been used as a spice in Mead and was sometimes used instead of hops in beer. The plant's characteristic odor can make it useful for making sprays against indoor pests, and fleas and moths.
---
Site design ©1999– Brickfields Country Park - Privacy -