Winter Heliotrope - Petasites fragrans
Family - Asteraceae
Also known as - Sweet–scented Coltsfoot, Sweet Colt's–foot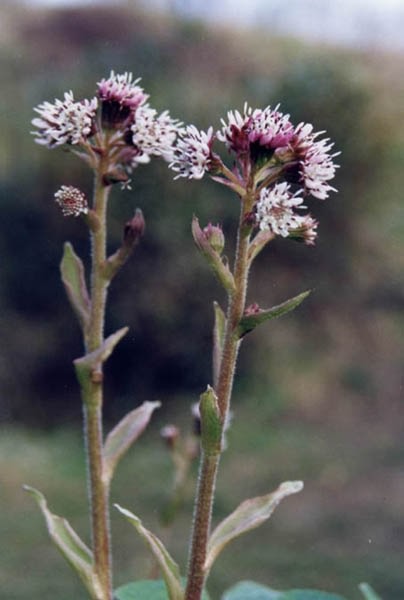 Photo ©2004 Ghislain118
Click photo for a larger image
A strongly scented and widespread winter plant, flowering from November to March with foliage appearing later in spring. Found on both waste and cultivated ground throughout the UK and Europe, it carpets damp places, hedgerows, woodland edges, embankments and shady roadsides. Dioecious flowers are pale pink 10–15mm (0.4–0.6in) across on spikes to 25cm (10in) long, the male flowers having mostly tubular florets and few rays, the female having many short rays. The distinctive green leaves are kidney–shaped growing to 30cm (12in) in diameter, hairy below and regularly toothed.
Introduced to the UK in 1806 as an ornamental from North Africa, it has escaped from gardens where it was planted originally for ground cover. Very invasive as it can regenerate itself from a very small part of its fleshy rhizome. Propagation by seed is possible, but in the UK this method is still undetermined as only male plants are allegedly to be found. Fragrans meaning.
The purple flowers and leaves of this heliotropic plant gradually follow the sun during the day. A very valuable source of winter feeding for bees, Winter Heliotrope was often planted near their hives specifically to provide nutrition during winter. Regarded by some as an invasive, physical removal of Winter Heliotrope can be impractical due to its rhizomatous root network. As with other plants with the potential to spread from small root fragments (Japanese Knotweed), disposal of material should be undertaken with great care to prevent further spread of the plant. Application of a glyphosate based herbicide is possible but the timing of an application is yet to be determined due to the plants winter flowering period.
---
Site design ©1999– Brickfields Country Park - Privacy -