More photos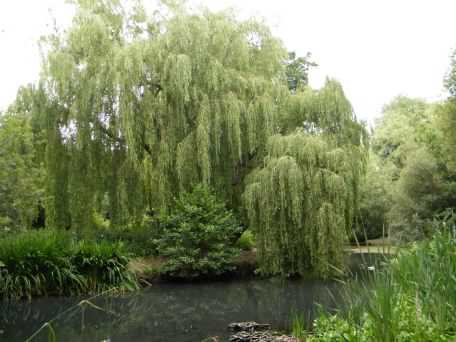 Photo ©2017–
Click for a larger image
Weeping Willow - Salix babylonica
Family - Salicaceae
Also known as - Babylon Willow
Recent further research has identified that some of our Weeping Willows may be Salix x sepulcralis, a cross between S. alba and S. babylonica, therefore further research for our Weeping Willows will be needed.
Weeping Willow is a deciduous tree native to Northern China but now found as an ornamental in many other countries including Europe and the southeastern United States. One of a family of around 400 trees and shrubs, it grows to a height of about 20–25m (66–82ft) preferring damp places. It can be a popular ornamental tree often grown by water and in other damp places, parks and gardens. It has long thin trailing branches of yellow twigs and lanceolate leaves, bright green on top, green–blue below. Male catkins (flowers) are found on differing trees to the female when the leaves appear in April to May, the catkins grow to 8cm (3.2in). Willow bark has been used for tanning and is also rich in the alkaloid Salicin, which has tonic and astringent properties, often used instead of Quinine, although not as powerful. Willow has an historical association with sadness.
Willows can suffer from quite spectacular rust infections caused by several species of Tree Rust – Melampsora spp. where dusty orange spots or pustules appear on the undersides of the leaves. Severe attacks can leave the leaf virtually covered in pustules, and can be occasionally intermingled with black ones. Rust fungi are biotrophs and as they cannot survive on dead plant material, they must either alternate with a different perennial host including Euonymus (Spindle Tree), Larix (Larch), Ribes (Gooseberry), Saxifraga, or produce resting spores. Tree rusts can also affect Poplar, Willow, Birch and Plum species.




Willow Rust
Melampsora spp.

Photos ©2017–

Click any photo for a larger image
---
Site design ©1999– Brickfields Country Park - Privacy -