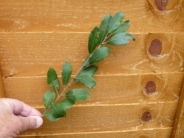 Photo ©2015 Phil Pullen
Click any photo for a larger image


Willow Rust - Melampsora spp.
Photo ©2014–
Grey Willow - Salix cinerea ssp. oleifolia
Family - Saliceceae
Also known as - Common Willow, Grey Sallow, Pussy Willow
Growing as a shrub to small tree of around 5–9m (16–30ft) with oval dull green alternate leaves that are long and thin at least twice as long as they are wide, 2–9cm (0.8–3.5in) long and 1–3cm (0.4–1.2in) wide, with a fine felt underneath with odd rusty hairs under the veins. Can easily be confused with Goat Willow (Sallow) which has much larger oval to round leaves. It is generally much branched from the base but can sometimes be found with a distinct trunk. Branches spread to form a broad, rounded or flattened crown. Grey Willow has dark grey–brown bark which becomes fissured with age. The twigs are dark reddish–brown which are densely pubescent at first and can remain so for the first year before becoming or sub–glabrous. catkins appear in advance of the leaves in March and April and are cylindrical and 2–3cm long and 0.6–1cm wide. The female green catkins are smaller and narrower than the male which are yellow.
Willows can suffer from quite spectacular rust infections caused by several species of Tree Rust – Melampsora spp. where dusty orange spots or pustules appear on the undersides of the leaves. Severe attacks can leave the leaf virtually covered in pustules, and can be occasionally intermingled with black ones. Rust fungi are biotrophs and as they cannot survive on dead plant material, they must either alternate with a different perennial host including Euonymus (Spindle Tree), Larix (Larch), Ribes (Gooseberry), Saxifraga, or produce resting spores. Tree rusts can also affect Poplar, Willow, Birch and Plum species.
Grey Willow is split into two subspecies covering Western and Eastern Europe with the boundary running roughly down the centre of France, however there is a broad band in which both sub species will be found –
Western

- All of the UK except for East Anglia, Western France, Spain, Portugal, parts of North Africa.

S. c. oleifolia

- a shrub or tree to 10–15m (32–49ft) tall with furrowed bark, the underside of the leaves are thinly covered with dark red–brown hairs, small stipules.

Eastern

- Central Europe, Southern Scandinavia to Western Russia.

S. c. cinerea

- a shrub to 4–6m (13–19ft) tall, with smooth bark, the underside of the leaves are densely covered with pale yellow–grey hairs, large stipules.
The common name of "Pussy Willow" comes from the initial emergence of the male catkins of several Willow species as they are covered in a fine greyish coloured fuzz that is likened to that of small cats or kittens, colloquially known as "pussies". These can be one of the earliest spring signs as they appear long before the leaves.
---
Site design ©1999– Brickfields Country Park - Privacy -