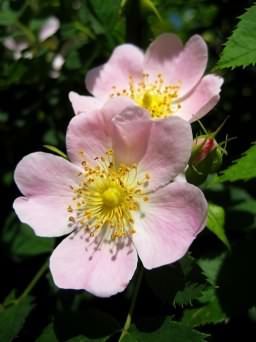 Photo ©2008 Roberta F.
Click any photo for a larger image


Picture 1885 Dr. Otto Wilhelm Thomé
Wild or Dog Rose - Rosa canina
Family - Rosaceae
Also known as - Witches Briar
A deciduous very variable scrub and hedgerow shrub growing to 3m (10ft) with long arching branches bearing very sharp curved spines, which aid it in climbing, given support it sometimes can scramble higher into the crowns of taller trees or bushes. In the UK it is a widespread wild rose species that is native to Europe, northwest Africa and western Asia and probably the most well known of the wild roses. It is an introduced species in many other countries including the USA where it was planted in gardens to celebrate the victory in WWII, in New Zealand it is an invasive species.
Dark green alternate pinnate leaves of five to seven hairless leaflets 15–40mm (0.6–1.6in) long with saw like edges are ovoid to elliptical in shape. The flowers are usually pale pink 4–6cm (1.6–2.4in) diameter, five petals with a yellow centre, occasionally varying between a deep pink and white, appear June to July and ripen in the autumn to an orange–red oval fruit or "hip" 1.5–3cm (0.6–1.2in) diameter, Rose hips are also known as Dragon's eyes. The fruit may contain larva of the gall wasp Diplolepis rosae which produces balls of crimson "moss" called "Robin's pin–cushions". Dog rose spreads by suckers into woodland margins, scrub and hedgerows. It was voted the county flower of Hampshire in 2002 following a poll by the wild flora conservation charity Plantlife. The flowers are hermaphroditic and are pollinated by bees, moths and butterflies.
FBCP do not advise or recommend that Wild or Dog Rose – Rosa canina is eaten or used as an herbal remedy. Dog Rose has long been used to make preserves, wines, syrups and tea, it is high in antioxidants and vitamin C.
One of the flowers in Linnaeus' flower clock or Horologium Florae, Wild Dog rose occupies the 4 a.m. opening time and 7 p.m. closing time.
---
Site design ©1999– Brickfields Country Park - Privacy -