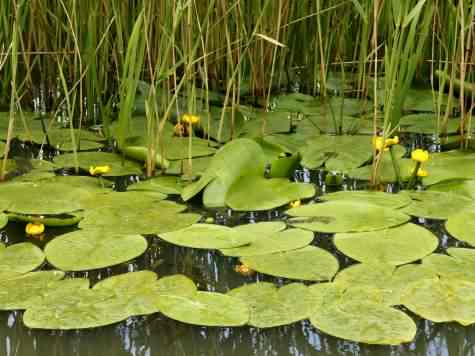 Photo ©2009 Lycaon
Click any photo for a larger image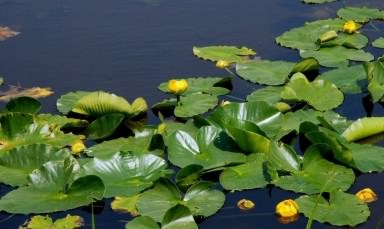 Photo ©2009 Barry Breckling
Yellow Waterlily - Nuphar lutea
Family - Nymphaeaceae
Syn. - Nymphaea lutea
Also known as - Brandy Bottle, Bobbins
As a genus Nymphaeaceae, water–lilies are hardy aquatic perennials native to most of the Northern Hemisphere, Australia and South Africa, they are locally widespread (except N. Scotland for N. lutea) and common on still or slow flowing water and wetlands, with many hybrids derived from the wild species. It is cultivated elsewhere and invasive in some countries, being listed as a National Surveillance Plant Pest in New Zealand. Capable of growing in water to 5m (16ft) deep, it prefers shallower depths to other waterlilies and is rooted in the silt of ponds and lakes. As the silt is devoid of Oxygen special cells or aerenchyma in the leaves transport Oxygen to the rhizomatous root structures.
A deciduous plant, it has floating oval shaped dark green glossy leaves up to 40cm (16in) across. Solitary yellow hermaphroditic flowers 50–60mm (2–2.4in) with 5–6 sepals concealing many smaller petalsare carried on stalks appearing June to September. pollinated by insects the flower matures to a bottle shaped pod, the shape and smell of stale alcohol apparently giving rise to the plants common name. It is not as tolerant of water pollution than others in the genus Nymphaea. Stylised waterlily leaves appear on the flag of the Dutch province of Friesland, with the Yellow Waterlily reputed to have been used. A form of the flower appear on the roof bosses of Bristol Cathedral and Westminster Abbey, thought to signify and encourage celibacy.
Similar to Fringed Waterlily – Nymphoides peltata, generally a garden escapee and related to the Bogbean rather than Waterlily. This has smaller leaves, and a more open and delicate flower of five petals with frayed wrinkled edges. Nuphar lutea has larger leaves and thicker cup shaped petals.
---
Site design ©1999– Brickfields Country Park - Privacy -