More photos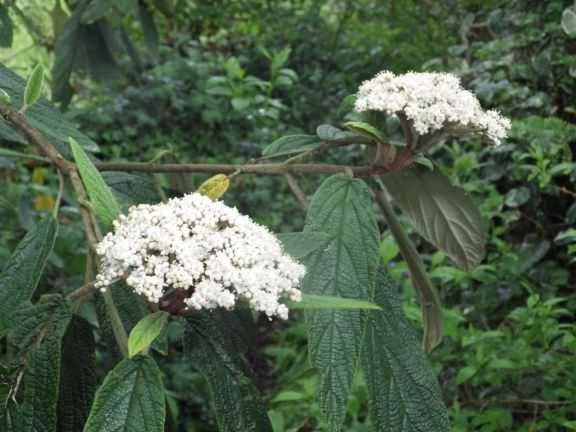 Photo ©–
Click for a larger image
Toxic
Leather Leaf Viburnum - Viburnum rhytidophyllum
Family - Adoxaceae
Also known as - Wrinkled Viburnum
An Evergreen perennial shrub native to Asia and widely planted as a garden ornamental bush with a tolerance of deeply shaded places, those specimens found in the wider environment are usually garden escapees or as a result of fly–tipped garden rubbish. It has a vigorous upright growth, coarsely textured opposite leaves around 20cm (8in) long that are deeply veined, oval with dark blue–green surfaces and pale green downy undersides, the leaf stems are also downy and light brown in colour.
Fragrant creamy–white or pale pink flowers in tight abundant domed clusters 10–20cm (4–8in) across form pendulous clusters of bright red berries from around late June onwards maturing to glossy black plump orbs providing there are other localised plants for pollination. Plants can grow to 3.0–4.6m (10–15ft) tall and wide, they spread from suckers. The flowers are attractive to butterflies and the fruit to birds.
Leather Leaf Viburnum is very tolerant of shade, the specimen in Brickfields Park growing under Oaks and Hawthorns, and being located just beyond neighbouring fencing and close to the Hostas, another shade loving plant, they are obviously a result of fly–tipped garden rubbish.
FBCP do not advise or recommend that Leather Leaf Viburnum – Viburnum rhytidophyllum is eaten or used as an herbal remedy. Leather Leaf Viburnum is not edible and can cause a stomach upset if consumed.
---
Site design ©1999– Brickfields Country Park - Privacy -