More photos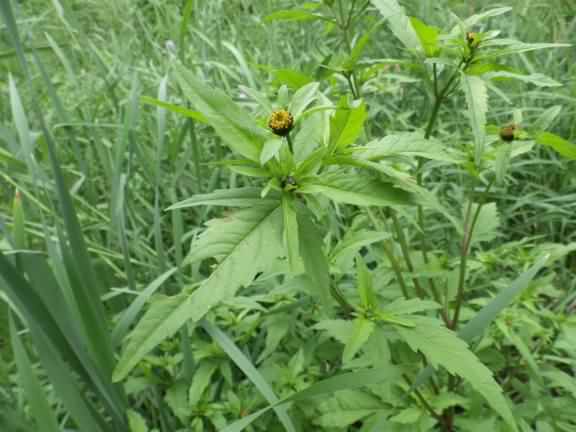 Photo ©2019–
Click for a larger image
Trifid Bur–Marigold - Bidens tripartita
Family - Asteraceae
Also known as - Three–lobe Beggarticks
Trifid Bur–Marigold is a variable annual plant growing to a height of 10–60cm (4–25in), with dark green opposite leaves on short stalks, of usually three, occasionally up to five lobes.
It is native to large parts of the Northern hemisphere, including the UK, Europe, Indian subcontinent, North America and East Asia, it has become naturalized in other areas. It grows in damp areas on gravel, muddy pond edges, marshes, field tracks, paths, ponds and ditches to a height of around 50cm (20in), on erect stems with opposite three lobed, toothed dark green leaves on short stalks.
Dull yellow ray–less flower heads 1–25mm (0.4–1.0in) across are a capitulum surrounded by with black–streaked, sepal–like inner bracts on two rows. The flowers usually seen from July to August are on stalks which emerge from the leaf nodes, and they mature to a ragged cypsela of achenes approximately 5–8mm (0.2–0.32in) long. These have 2–4 small hooks, similar to products made by "Velcro", thereby spreading them far and wide on the fur of small animals or clothing, where at some point the tips break off and the cypsela falls to the ground.
Its name comes from opposite pairs of trifid leaves which both have long opposite side–lobes occurring sporadically on the plant and sometimes not at all.

Flowers

Mature flowers

Hooked seeds

1905 image from Project Runeberg

Photos ©2019–

Click any photo for a larger image
1905 image key –
Plant upper part
Longitudinal section of flower head
Inner hollow scales
Flower before pollen development
Flower at the pistil stage with its support scaffold
Flower tip fully open, with pollen and warty surface
Pollen grain
Fruit with 3 barbed spikes
---
Site design ©1999– Brickfields Country Park - Privacy -