More photos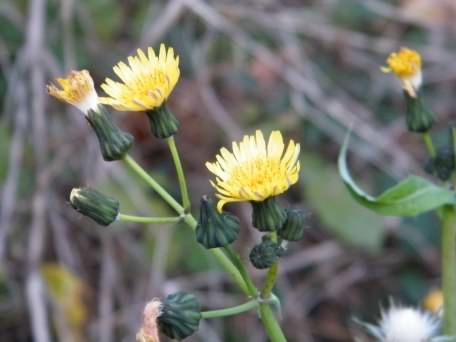 Photo ©2018–
Click any photo for a larger image
Smooth Sow–thistle - Sonchus oleraceus
Family - Asteraceae
Also known as - Sow Thistle, Hare's Thistle, Milk Thistle
A very common native annual plant in the UK except for northern Scotland, found from May to November on bare or disturbed areas, waste ground and roadsides. Also native to Europe and western Asia. Growing to 30–100cm (12–39in) high on greyish green upright stems, the upper leaves clasp the hollow stem with triangular leaves that have pointed basal lobes.
Hermaphroditic flowers are a pale yellow 20–25mm (0.8–1in) in diameter as lax clusters are insect pollinated with common pollinators including bees and flies, with the resultant fluffy seeds being reminiscent of Dandelions, which are also spread by the wind. It is considered an invasive species in many countries and in Australia it has become a very common and widespread invasive and a serious crop problem.
Smooth sow thistle will hybridise with Prickly Sow Thistle – S. asper, to produce S. asper x glaucescens.
FBCP do not advise or recommend that Smooth Sow–thistle – Sonchus oleraceus is eaten or used as an herbal remedy. The scientific name "Sonchus" refers to its hollow stem whilst "oleraceus" to its good taste. Leaves are eaten as salad greens or cooked like spinach as blanching or boiling removes the bitter flavour.

Photo ©2008 Alvesgaspar

All other photos ©2018

Click any photo for a larger image
---
Site design ©1999– Brickfields Country Park - Privacy -