Toxic

Photos ©2004–


Click any photo for a larger image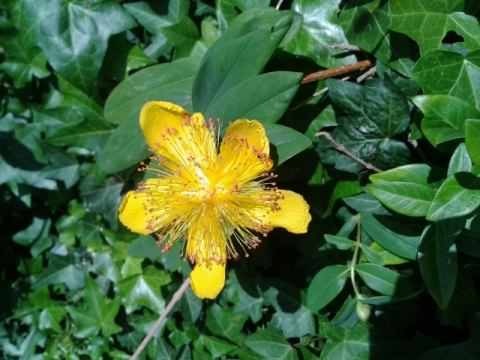 Great St. Johns Wort
in Brickfields Park probably
from dumped residential waste.
St John's Wort - Hypericum perforatum
Family - Hypericaceae
Also known as - Goat weed, Touch–and–heal, Rose of Sharon
A relatively short lived herbaceous perennial that grows in a loose open bushy habit of tall reddish coloured stems up to 60–110cm (2–3ft) tall and 60cm (2ft) across spreading by seed and from a woody base which puts out runners. Flowering from May to September, the flowers are star shaped clusters of bright yellow–orange comprised of five petals spotted with black dots which when rubbed between the fingers deposits a red stain. They are 2.5cm (1in) across with many prominent yellow stamens which make them look rather like a fine brush. Fruits are a three celled capsule containing small, dark brown seeds. The whole plant has a turpentine smell. Rarely in the plant world St. John's wort has two raised lines along the stem making it appear as if it were pressed flat.
opposite oval to linear leaves 2.5cm (1in) long. Found in roadsides, unimproved ground and fields it is a European, Northern Africa and Western Asian native, it has naturalised itself in the US and Australia where it is regarded as an invasive alien. Grows in full sun to part shade. Hypericum from the Greek for "above an icon" and Perforatum from the Latin for "perforated", as the leaves when backlit reveal many translucent spots, these are not actually holes but a layer of opaque essential plant oils and resin and a characteristic of most species of Hypericum. Wort is an old word meaning, "plant". Toxic to livestock. The flowers are uses in red and yellow dies.
FBCP do not advise or recommend that any part of St John's Wort – Hypericum perforatum is eaten or used as an herbal remedy. Traditionally hung in windows and above photos to protect from evil spirits, extracts from the leaves and flowers have been useful in treating mild depression, anxiety and insomnia. St. John's wort leaves and flowers were traditionally gathered on June 24th, St. John's Day (birthday of John the Baptist), and made into an eye lotion and to guard against evil spirits. St. John's wort is an ingredient in the traditional Russian soft drink, Baikal. Taking large amounts of St. John's wort or its extracts is reported to cause increased photo–sensitivity and dermatitis in some people. St John's Wort contains a photoxin, which is activated by exposure to sunlight. The translucent spots under the leaves contain a reddish, fluorescent substance which on activation by ultraviolet sunlight can cause dermatitis directly or, indirectly, in people using herbal medicines prepared from St John's Wort.
---
Site design ©1999– Brickfields Country Park - Privacy -