More photos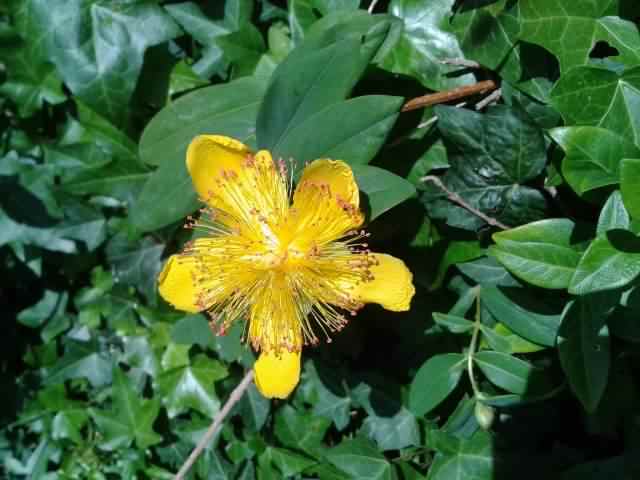 Photo ©2016–
Click for a larger image
Great St. Johns Wort - Hypericum calycinum
Family - Hypericaceae
Also known as - Jerusalem star, Rose–of–Sharon, Aaron's beard
This plant is poisonous
Great St. Johns Wort is a species of flowering bushy shrub widely cultivated for its large yellow flowers in a garden environment, originating from southeast Europe and southwest Asia. It is not naturally occurring in the UK so our plants are obviously as a result of one of the parks neighbouring properties dumping their garden waste. The common name Rose–of–Sharon occurs in Britain and Australia whilst in America it is used for a species of Hibiscus.
It is creeping woody shrub to around 1.5m (60in) tall and 1–2m (40–80in) propagating from runners or buy stems that touch the ground, it can out compete other plants in its vicinity. Green, ovate leaves grow in opposite pairs with bright yellow terminal solitary flowers 3–5cm (1.2–2in) in diameter, each of five petals and numerous yellow stamens, fruits to a small black poisonous berry. It will grow well in almost any conditions or soil type and is a popular semi–evergreen garden shrub with many named cultivars and hybrids, it can however become invasive if not kept under control.
FBCP do not advise or recommend that Great St. Johns Wort – Hypericum calycinum is eaten or used as an herbal remedy. Technically capable of producing the same active components as Perforate St. Johns Wort H. perforatum though in not as productive amounts.

Photo © Ferdinand Bauer

Photos above ©2016–

Click any photo for a larger image
---
Site design ©1999– Brickfields Country Park - Privacy -