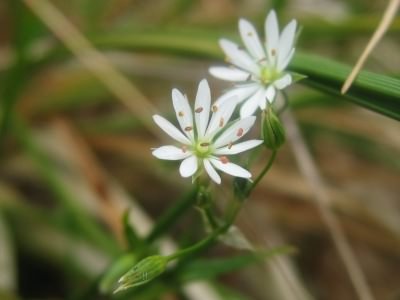 Photo ©2006 Fabelfroh
Click any photo for a larger image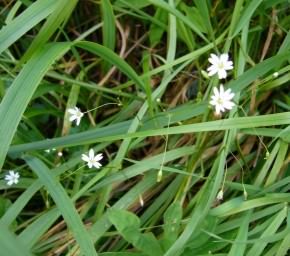 Photo ©2008 Zoya Akulova
Lesser Stitchwort - Stellaria graminea
Family - Caryophyllaceae
Also known as - Common Starwort, Grass–leaved Stitchwort
A naturalised wildflower of the UK and Eurasia, Lesser Stitchwort grows in meadows, beside footpaths, unmown grassy areas, open woodland and hedge banks in temperate zones, regarded as an introduced weed in some including North America and Asia. It is a rhizomatous perennial producing branching stems which have a prostrate, sprawling growth up to about 90cm (35in) long.
Narrow lanceolate leaves rather like grass are arranged in alternating opposite pairs. Four sided hairless stems with a terminal inflorescence of several flowers, each on a short pedicel appear in May continuing September. Each flower is five white petals, about 0.5–1.2cm (0.2–0.5in) long, deeply lobed so as to appear as ten petals, alternating with five short green hairy pointed sepals, the flower which only lasts for three days matures to a pack of small brown seeds each 1mm (0.039in) in diameter. See also Greater Stitchwort.
FBCP do not advise or recommend that Lesser Stitchwort – Stellaria graminea is eaten or used as an herbal remedy. The green shoots can be chopped into salads, steamed or quickly boiled. You can eat the flower buds and flowers and these can make an attractive addition to a wild salad. Greater Stitchwort is source of edible wild greens and can be used in salads, steamed or boiled, the flower buds and flowers can make an addition to a wild salad. Stitchwort refers to a herbal remedy in which various stitchwort plants were used to cure that pain in the side known as 'stitch'.
---
Site design ©1999– Brickfields Country Park - Privacy -