More photos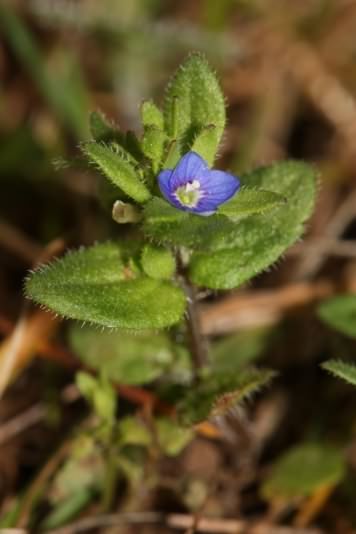 Photo ©2012 Wsiegmund
Wall Speedwell - Veronica arvensis
Family - Plantaginaceae
Also known as - Corn Speedwell, Rock Speedwell
Wall speedwell is a native European annual plant in the plantain family that is common in gardens, pastures, disturbed, acid or calcareous ground and cultivated land. Growing to a height of 8–40 centimetres (3.2–15.7in) from a central taproot. Dark green ovate hairy leaves 1.5–2.5cm (0.6–1in) long, coarsely toothed with a fleshy appearance are oppositely arranged in pairs on the stem with the lower leaf having a short petiole.
Small bright blue flowers with four petals having a darker blue veining are 2–3mm (0.08–0.125in) across, each petal has a tiny white patch at its base giving the flower a white center. The flowers form leafy racemes with the flowers in the axils of the narrow upper leaves. It flowers from March to October. The flowers have two stamens whilst the pistil is a fused carpel.
FBCP do not advise or recommend that Wall Speedwell – Veronica arvensis is eaten or used as an herbal remedy. It is listed in several sources as a medicinal plant as an herbal tea, also in skin lotions or herbal salves, it is also a diuretic. It is used in the treatment of scurvy, impurities of the blood etc. It is also used as a remedy for scrofulous, burns, ulcers and piles.
---
Site design ©1999– Brickfields Country Park - Privacy -