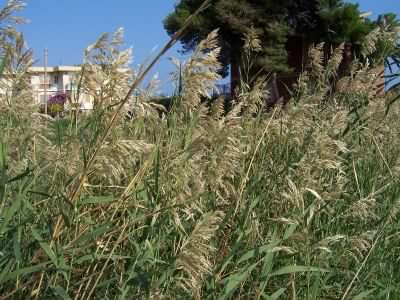 Photos ©2005 Luigi Rignanese
Click any photo for a larger image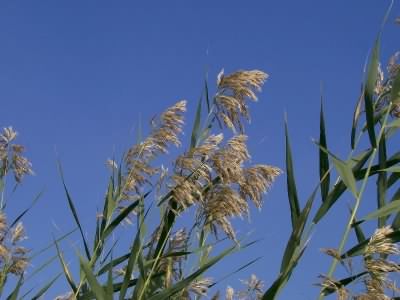 Luigi Rignanese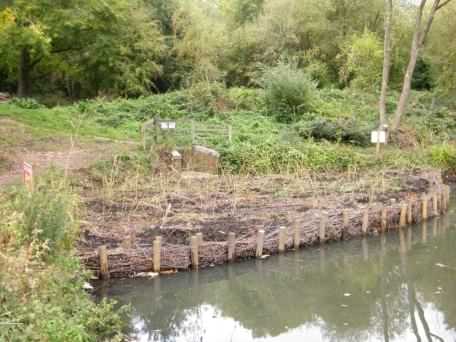 Photo ©2018–
New Reed bed in Brickfields
Park for phytoremediation
Common Reed - Phragmites Australis
Family - Poaceae
Also known as - Norfolk Reed
Common Reed is a cosmopolitan wetland grass species found throughout most temperate regions of the world. It forms large stands or reed beds at the margins of a water body, damp ground or marshy areas. It has a vigorous growth spreading by runners which form new plants from regularly spaced rooting nodes. Erect hollow stiff Culms (stems) grow to 2.5m (8ft) high are topped off in August to October with a large feathery purple coloured inflorescence composed of branching panicles which fade to brown as they mature, they persist through the winter. Clasping lanceolate pointed dark green leaves 20cm (8in) long by 3cm (1.3in) wide at the base, growing from auricles that grip the stem at the base of the leaf blade.
Widely regarded as an exotic introduced invasive in the USA further research seems to show its existence previous that thought with the North American form having a less vigorous than European forms. It has been widely used as a roofing material with a life of around 50 years but requiring the now rare skills of a thatcher to install and maintain. It is now one of the main wetland plant species used for phytoremediation treatment of water and wetlands. The bottom photo shows a newly planted reed bed at Brickfields Park specifically for treatment of the incoming water supply.
In the UK stands of Phragmites can provide a valuable habitat for birds, including rare and threatened species like Bittern, Marsh Harrier and Bearded Tit. Other uses of Reed include weaving into baskets and mats, pen nibs and rough paper, whilst the hollow stems can be made into solitary bees nests.
FBCP do not advise or recommend that Common Reed – Phragmites Australis is eaten or used as an herbal remedy. Some old texts have Common Reed dried and made into a flour which can then be moistened and roasted, tasting of marshmallow.
---
Site design ©1999– Brickfields Country Park - Privacy -