This plant is poisonous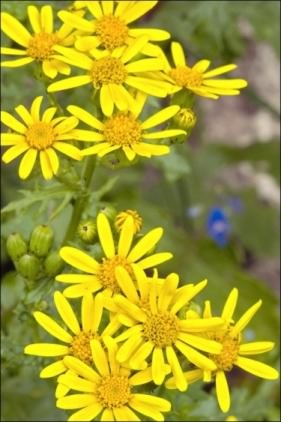 Photos ©2007 Dr. A. Trnkoczy
Click any photo for a larger image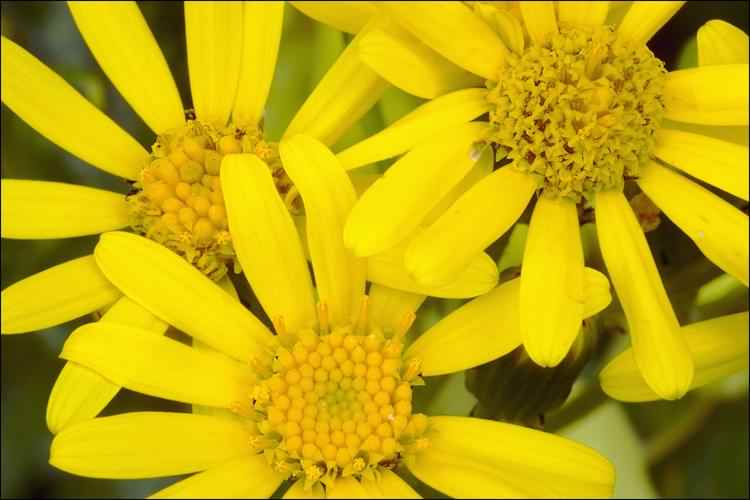 Oxford Ragwort - Senecio squalidus
Family - Asteraceae, Aster
Introduced from Europe (possibly Sicily), Oxford Ragwort is another poisonous member of the Ragwort family. Cattle, horses, goats, and young animals are more susceptible to poisoning than sheep, it is toxic to humans and livestock when ingested in a single large quantity or in small amounts over time. Oxford Ragwort was apparently introduced as an ornamental plant to the Oxford Botanical Gardens in the late 1700's, from where it escaped into the wild and spread rapidly throughout the Midlands and Southern half of the UK aided by the newly emerging railway system, which provided a similar habitat to its native home of Mount Etna. It is reported as hybridizing with Common Groundsel, with most hybrids infertile, but in a few places the cross has resulted in the establishment of a new larger fertile species Senecio Cambrensis Rosser.
Oxford Ragwort grows in a branched straggling form to between 0.5–1m (1.5–3ft) depending on conditions, it is an annual or perennial flowering from April to December, preferring dry, disturbed places, cultivated and waste ground, walls and railway banks. The leaves are almost hairless, glossy varying from deeply pinnately lobed to undivided with only the lower ones being stalked. Stems and leaves resemble those of the Common Groundsel. Yellow flowers of 10–14 petals in loose clusters at the stem tips are pollinated by insects. Ray corollas 8–15mm (0.3–0.6in) long, 2–4mm (0.08–0.16in) wide, involucre bell–shaped to cylindric. They mature to a cylindrical shallowly ribbed fruit, light brown in colour, 1.5–3mm long (0.06–0.12in). The name "Ragwort" is possibly a reference to its ragged, much divided leaves.
Four types of Ragwort will be found in the UK, all of them poisonous to livestock –
Common Ragwort.
Marsh Ragwort –

Senecio aquaticus

, in wet meadows, ditches, marshland and moorland.
Oxford Ragwort –

Senecio squalidus

.
Hoary Ragwort – Senecio erucifolius.
FBCP do not advise or recommend that Oxford Ragwort – Senecio squalidus is eaten or used as an herbal remedy. All of the plant contains an alkaloid poison which will cause irreversible liver damage, the poison is not destroyed by drying or storing. With a bitter taste most animals will avoid eating it, if grazing becomes scarce however, they may eat it especially if it is cut and left on the ground as it becomes more palatable. Ragwort missed in the field and mechanically baled with hay or mixed with silage is extremely dangerous as small amounts can cause liver damage. Recovery is possible if caught early, as the liver can regenerate itself to some degree. Symptoms of Ragwort poisoning in livestock are weight loss, lack of appetite, diarrhoea, abdominal pain, restlessness and convulsions.
DEFRA Code of practice for Ragwort, including identification of Ragwort and similar common plants, our local pdf copy of the document.
---
Site design ©1999– Brickfields Country Park - Privacy -