More photos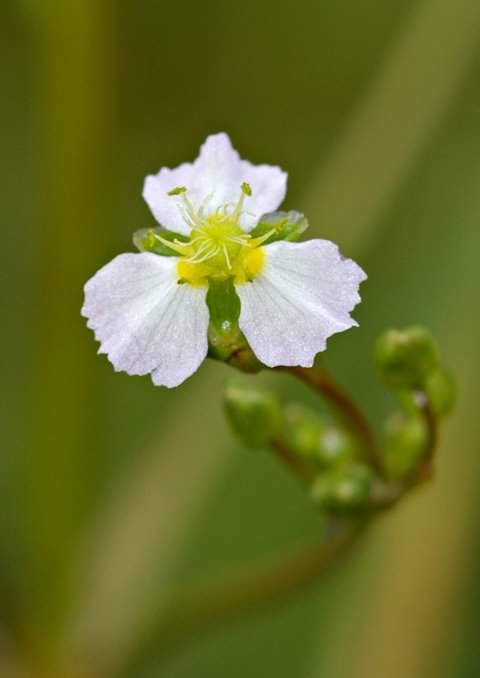 Photo ©2006 Christian Fischer
Water–plantain - Alisma plantago–aquatica
Family - Alismataceae
Also known as - European water–plantain, mad–dog weed, Thumbwort
Water–plantain is a common hairless freshwater perennial aquatic plant found in damp areas, shallow water and muddy areas throughout the UK but rarer in Northern Scotland, also Europe and Asia. Native in northern Africa and a naturalised plant in many areas including Australia, New Zealand and possibly America.
Oval lanceolate basal leaves with a pronounced primary mid–vein growing to 14–32cm (5.5–12.5in) long on thick stems. Pale pink or lilac flowers with ragged outer edges are seen from June to September, are around 15mm (0.7in) across comprising three petals, six pale green stamens and three green sepals, in loose inflorescence of branching clusters at the end of a thick stem from the basal leaf cluster growing to 1m (39in) or more. The flowers mature to cluster of numerous achenes up to 7mm (0.3in) in diameter which are buoyant and water dispersed, remaining viable for many years.
FBCP do not advise or recommend that Water–plantain – Alisma plantago–aquatica is eaten or used as an herbal remedy. According to Russian texts, dried and powdered root of Water–plantain was a popular remedy for Rabies, giving rise to the name "Mad–dog weed". Scutellaria lateriflora or Mad–dog skullcap is also known as mad–dog weed.

Photo ©2009 Bff

Photos ©2019–

Click for a larger image
---
Site design ©1999– Brickfields Country Park - Privacy -