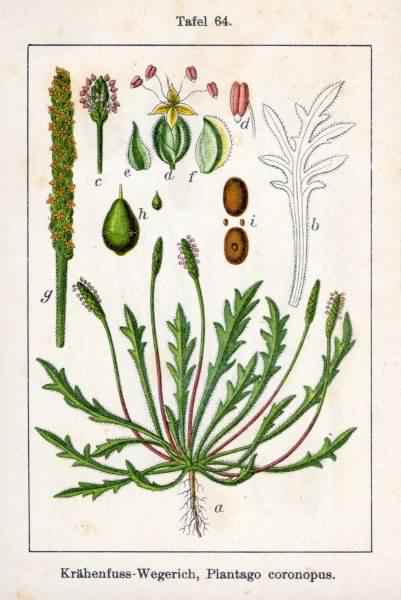 Drawing 1796 Johann Georg Sturm
Click for any photo a larger image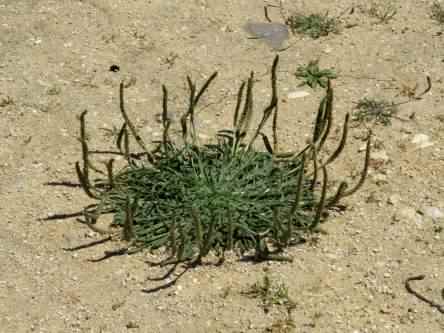 Photo ©2015 Yurakuna
Buck's–horn Plantain - Plantago coronopus
Family - Plantaginaceae
Also known as - Hart's horn plantain, Stag's horn plantain, Star of the earth
Buck's–horn Plantain is an herbaceous annual to perennial flowering plant that forms a basal rosette of narrow pinnately–lobed, lance–shaped, toothed hairy leaves up to 25cm (10in) long which are toothed or deeply divided. The inflorescences grow erect attaining a height of about 4–7cm (1.6–2.8) with dense terminal spikes of pale straw coloured flowers which can occasionally be curved. Usually seen in flower from May to October, each flower has four whitish lobes of about a millimeter long.
It is native to the Eurasian area including North Africa but will also be found in the United States, Australia, and New Zealand as an introduced alien species. It prefers sand or gravel soils and salty substrates so prefers areas close to the sea, roadsides, salt storage areas, but will be found elsewhere. Listed by some as invasive in its native range not a rampant grower possibly from its saline preference. The toothed leaves gives rise to its common name as they are said to resemble a buck's horn. Buck's–horn Plantain is Gynodioecious where female and hermaphroditic plants coexist within a population.
FBCP do not advise or recommend that Buck's–horn Plantain – Plantago coronopus is eaten or used as an herbal remedy. It is grown as a salad leaf vegetable known as Erba Stella and is especially prized, as its name might suggest, in Italy. It is frost hardy and has become a popular winter crop in northern climates. Some recommend harvesting the leaves before the leaves. It has apparently also been used as a medicinal plant for treatment of fevers.
---
Site design ©1999– Brickfields Country Park - Privacy -