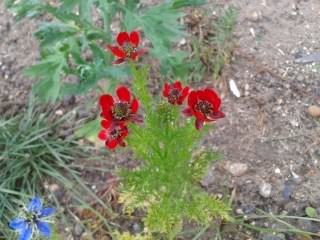 Photo ©2019–
Click any photo for a larger image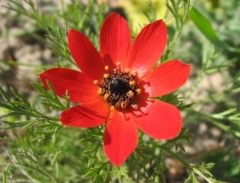 Photo ©2005Alberto Salguero
Pheasant's Eye - Adonis annua
Family - Ranunculaceae
Also known as - Adonis' Flower, Red Chamomile
This plant is poisonous
Pheasant's Eye is a flowering plant of arable fields native to the UK, Mediterranean Europe, North Africa and Western Asia, growing to 50cm (20in) high with terminal scarlet red flowers of eight oval petals surrounding a central mass of black anthers which are borne on slightly hairy stems. A very attractive plant with deep red cup–shaped flowers, it grows on calcareous soils and can be seen from June to August when in flower. The petals of this rare cornfield annual have a darker area at the base and the leaves are finely divided with bright green parallel–sided segments. Overall the flower has the appearance of a miniature Anemone.
Listed as widespread but not abundant in the UK especially the south, it is a plant of arable fields, roadsides, farmland, disturbed ground and the margins of fields sown with winter cereals. It is listed that that remaining Pheasant's Eye sites are restricted to Wiltshire and Hampshire. In the UK, Adonis annua is endangered plant listed as a priority species under the UK Biodiversity Action Plan. The name Bird's Eye is also associated with the Bird's–eye primrose Primula farinosa, and as an alternative name for Poet's narcissus – Narcissus poeticus.
FBCP do not advise or recommend that Pheasant's Eye – Adonis annua is eaten or used as an herbal remedy. Pheasant's Eye is not edible, all parts of the plant are poisonous to humans and livestock.
The Pheasant's Eye is a UK Biodiversity Action Plan listed species.
---
Site design ©1999– Brickfields Country Park - Privacy -