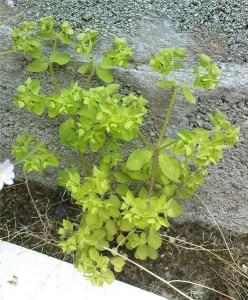 Photo ©2009 Steve1nova
Click any photo for a larger image


Photo ©2006 Dr. Amadej Trnkoczy


Photo ©2006 Dr. Amadej Trnkoczy
Petty Spurge - Euphorbia peplus
Family - Euphorbiaceae
Also known as - Milkweed, Cancer weed
This plant is poisonous
A small, innocuous member of the rather large spurge (Euphorbia) family, a light green annual that appears in pavement cracks, flower beds, wasteland, paths and borders almost throughout the year and in many differing soil types. It has a weak root structure and can be readily pulled as part of a weeding scheme in regular garden maintenance, therefore the use of chemicals to control it is probably not required. It flowers from April to November and is capable of germinating in all but the very coldest months of the year and will quickly infiltrate beds and borders.
The tender stems and branches of petty spurge exude a milky sap when damaged that severely irritates the skin on contact. The seeds, which spread explosively, are poisonous purgative if ingested and can lie dormant underground for many years and still germinate if brought to the surface. The plant is native to the UK, Europe, northern Africa, and western Asia, it is widely naturalised elsewhere in the world and often invasive, including Australia, New Zealand, North America, and other countries of temperate and sub–tropical regions. It grows to around 5–30cm (2–12in) tall but tends towards the smaller size as a weed of cultivated areas, with smooth hairless stems. The leaves are oval–acute, 1–3cm (0.4–1.2in) long, with a smooth margin. It has flowers in three–rayed umbels, and the glands, typical of the Euphorbiaceae family, are kidney–shaped with long thin horns.
FBCP do not advise or recommend that Petty Spurge – Euphorbia peplus is eaten or used as an herbal remedy. Petty Spurge is not edible. The seeds contain an oil that is a severe purgative an has been linked to poisoning amongst horses, cattle and sheep in New Zealand, the active ingredient in the seeds and foliage are not affected by drying. Gardening gloves should be worn when weeding Petty Spurge especially people with skin conditions as the plant exudes a white milky skin–irritating sap if broken and can cause dermatitis and eye irritation. It's this sap that has given rise to its common name - Milkweed. Sap from the plant has been used traditional medicine for many years and research has shown promise from the use of Petty Spurge to treat non–melanoma skin cancers but this is not to be tried out of a medical environment as the treatment is still experimental and can irritate the skin. Further research is required into the active ingredient Ingenol mebutate.
---
Site design ©1999– Brickfields Country Park - Privacy -