More photos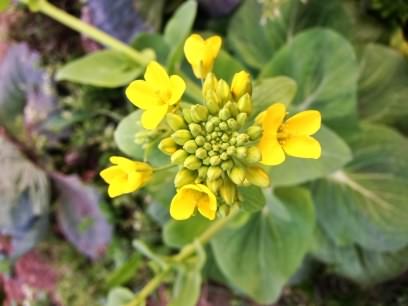 Photo ©2019 Honeyhuyue
Click any photo for a larger image
Oilseed Rape - Brassica napus
Family - Brassicaceae
Also known as - Rapeseed, Canola, Hairy Canola
Oilseed Rape is the familiar yellow of summer fields stretching into the distance. A member of the cabbage family Oilseed Rape is now mainly a genetically modified crop, bred to have resistance to chemical weed killers and pests. The plants found in Brickfields Park we believe are the hairy variety colloquially known as Hairy Canola. The plant is mainly cultivated for its oil rich seed which is used in cooking oils and biodiesel fuel, but also in subspecies and varieties as animal fodder, these having a more Kale leaf form.
It grows to around 1m (39in) tall on multiple thin stems terminating in a mass of bright yellow flowers about 18–22mm (0.7–0.85in) across composed of four petals and four alternated sepals, flowering starts at the lowest bud and proceeds upwards, developing into long thing green seed pods which gradually turn brown. The pods are then harvested and pressed for their oil content with the waste product becoming a high protein animal feed. It has pinnatifid and glaucous lower leaves where the upper leaves clasp the stem. B. napus can be distinguished from B. nigra by the upper leaves which do not clasp the stem, and from B. rapa by its smaller petals which are less than 13mm (0.5in) across.
Before newer cultivars were developed rapeseed contained high levels of toxic Erucic acid (up to 50%), which caused heart problems resulting in it being banned by the American FDA in 1956. Modern food grade cultivars were later developed to lower this toxicity and it is now regulated to less than 5% in the EU. Further cultivars have been developed to reduce the prevalence of beetle, weevil and midge infestations on Oilseed Rape that have developed resistance to insecticides. "Canola" was originally a clever piece of marketing by combining parts of "Canada" and "Oil Low Acid" as a name for a new cultivar rapeseed with lower levels of Erucic acid, so distancing its self from the original species. Canola is now largely used as a generic term, especially in North America, for the edible varieties of rapeseed oil.

Photos above ©2019– -

Click any photo for a larger image

- Close window
---
Site design ©1999– Brickfields Country Park - Privacy -