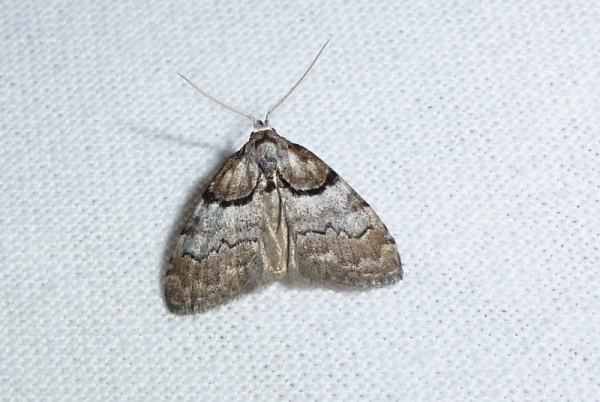 Photo ©2012 Lymantria
Click any photo for a larger image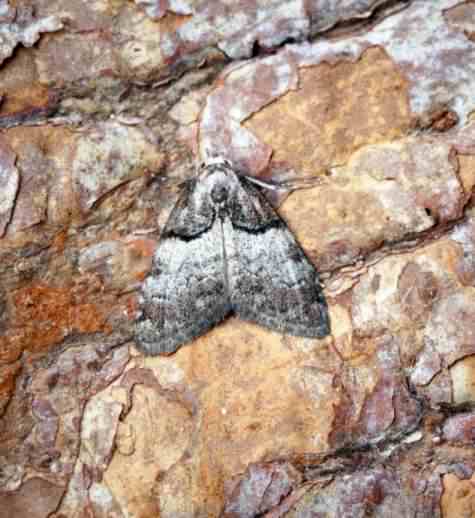 Photo ©2017 Ben Sale
Short–cloaked moth - Nola cucullatella
Family - Nolidae
Resident and common in the UK and also found in Europe, the short–cloaked moth is a quite small moth with a wingspan of 15–20mm (0.6–0.8in) seen during June and July in woodland, suburban gardens and similar bushy habitats. Recent sightings have put this moth close to the port of Vancouver in British Columbia, Canada, so has been regarded as a possible introduction there.
The forewings are brown and grey, there is a brown basal area bordered with a semi–circular black band, a grey central area bordered by another thinner black band roughly shaped like a letter "W", followed by another brown area to the wings trailing edge. Both the middle grey and outer brown parts are further divided into light and darker patches, again by W shaped lines. The body follows this brown - grey–brown patterning so that when at rest it looks rather like a "cloak", giving this species its common name. The hindwings are uniform cream or grey.
The larvae are reddish brown with white line along the back, each body segment has several orange tubercles from which sprout a dozen or so white hairs giving the caterpillar a rather "cactus plant" look. They feed on various plants including Blackthorn, Apples, Cotoneaster, Hawthorns, Rowan, Whitebeam and Pears. They overwinter as a larva.
Agassiz #74.003, Bradley & Fletcher #2077
---
Site design ©1999– Brickfields Country Park - Privacy -