Large Yellow Underwing - Noctua pronuba
Family - Noctuidae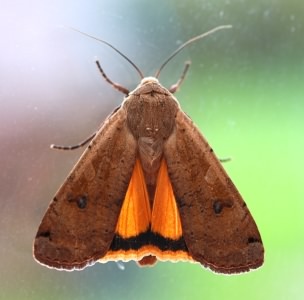 Photo ©2018 Nick Goodrum
Click any photo for a larger image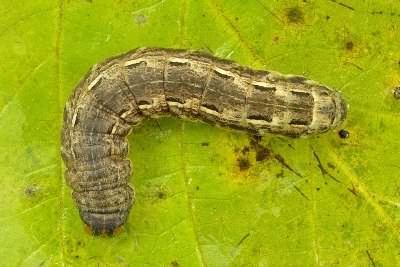 Larvae
Photo ©2020 Ivar Leidus
The Large Yellow Underwing is a common and widespread moth species found throughout Britain with occasional large migratory influxes in the south. Seen in a variety of habitats, including gardens, parks, woodlands, and agricultural land, also found in Europe and parts of Asia. It is a relatively large moth with a wingspan of up to 50-60mm (2-2.4in). The forewings are variable greyish-brown to almost black and have a distinctive yellow or orange-brown stripe running along the leading edge of each wing.
The hindwings are bright orange-yellow with a black border and a small black spot near the centre. Adult moths are active from July to October and are often attracted to light sources at night. They are known for their distinctive flight behaviour, which involves a quick burst of flight followed by a prolonged glide with the wings held flat. It is introduced species into North America.
Caterpillars of the Large Yellow Underwing are green or brown in colour and have a series of black dashes along the length of their bodies. Feeding on a wide range of plants including Nettles, Docks, various trees, Buddleia, Ragworts, and Red Valerian. Regarded as a garden pest it overwinters as a larva sometimes on mild days throughout the winter.
Agassiz #73.342, Bradley & Fletcher #BF2107
---
Site design ©1999– Brickfields Country Park - Privacy -