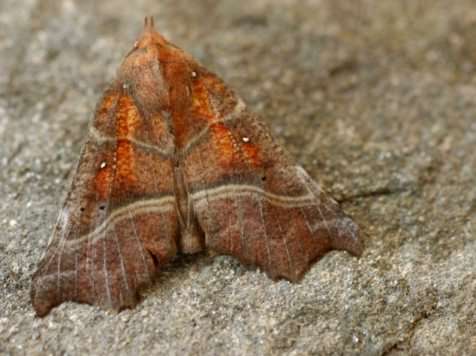 Photo ©2005 - Entomart
Click any picture for a larger image


Photo ©2005 - Entomart
Herald moth - Scoliopteryx libatrix
Family - Erebidae
The Herald moth is a common moth of the British Isles, found in woodlands, parks and gardens, scrub, heathland and other places where their food plants can be found throughout the Palaearctic (Europe and far east)and Nearctic (Northern American) regions. The wingspan is 38–45mm (1.5–1.8in), the forewings are a darkish chocolate brown graduating to orangey red at the wing roots, with three distinct white cross lines, the inner and outer lines edged in brown, and a small white spot close to the shoulder. It has a wingspan of around 45mm (1.8in) and with its brown ragged colouration it resembles a dead leaf when at rest.
Flight period is between June and November in one, in possibly two generations, the second hibernating and over wintering in dark, cool sheltered areas, cellars, barns and caves,to reappear March to June. There is a white spot on the median vein, combined with two nearby black dots represents the orbicular stigma, at rest the scalloped forewings form a shape rather like a capital "W".
The caterpillars are the bright green that is common to many caterpillars, distinguished by a thin yellow (with black below) line running along the body, whilst each body segment has several black hairs. They pupate between two leaves, in a white silken cocoon. Their larval food plants Willows and Poplars, and as adults they take nectar from Ivy blossoms and Blackberries (Bramble).
Agassiz #72.001, Bradley & Fletcher #2469
---
Site design ©1999– Brickfields Country Park - Privacy -