More photos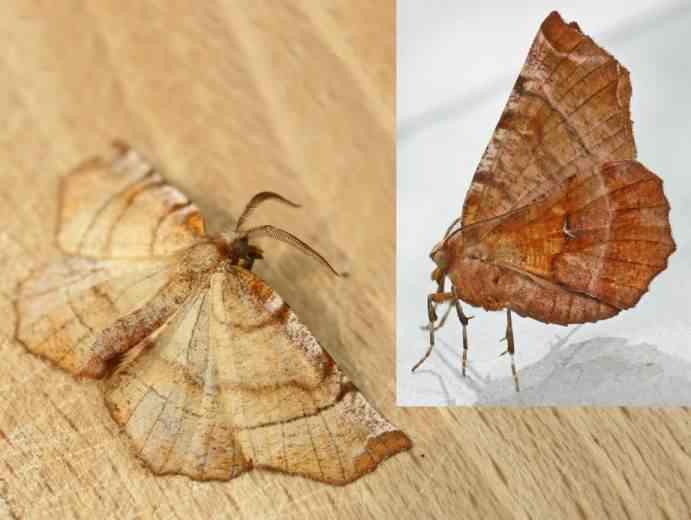 Photo ©2005 Entomart
Click for a larger image
Early Thorn moth - Selenia dentaria
Family - Geometridae
The Early Thorn moth is a common species found in the UK (less so in Scotland), northern Europe through to the northern parts of the far east, in a range of habitats including woodland, scrub, hedgerows, parks and gardens, and occasionally urban areas. This is another moth species of variable colouration, overall they are a light brown and finely speckled white with three sub–marginal cross lines, the inner and outer lines are more defined and straighter than the central line which is lighter and wandering.
Wingspan is 28–40mm (1.1–1.6in), the leading edge of the forewings is an alternate brown and silvery white speckled with brown, with a dark mark at the apex of the forewing. The wing undersides are a much darker brown. Melanistic forms occur fairly regularly in parts of northern England. At rest the Early Thorn holds its wings upright rather like butterflies. It overwinters as a pupae which is spun between leaves of the host plant or in plant debris.
It has two generations (except in the far north), the first appears in April and May, the second summer brood in August and September, usually produces smaller and paler moths. The larva is a dark reddish brown, occasionally more purplish; the 4th and 5th abdominal segments are swollen with small dorsal humps and marked with bright orange stripes on the anterior. They feed on various deciduous trees, such as Birches and Alders. The rest position of the Early Thorn is a distinguishing feature of the species, with its wings held back and almost together, rather like a butterfly.
The caterpillars feed on a variety of deciduous trees, including Blackthorn, Hawthorn, Hazel, Birch, Alders and Willow species.
Agassiz #70.237, Bradley & Fletcher #1917
---
Site design ©1999– Brickfields Country Park - Privacy -