Photo ©2006 Olaf Leillinger


Click any photo for a larger image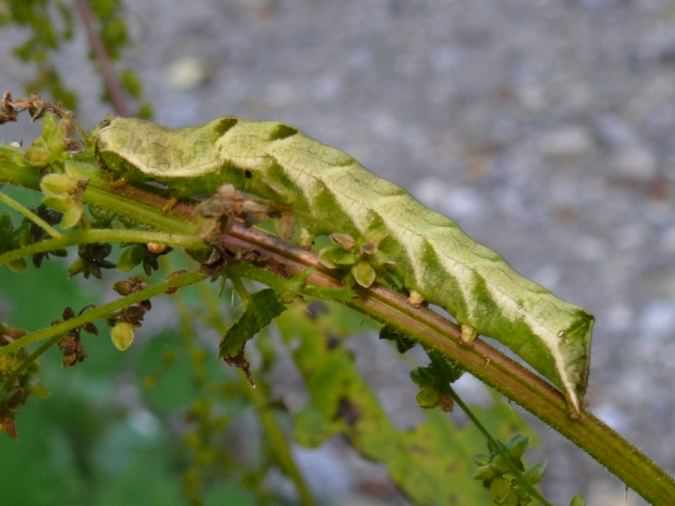 Larvae
Photo ©2008 Harald Süpfle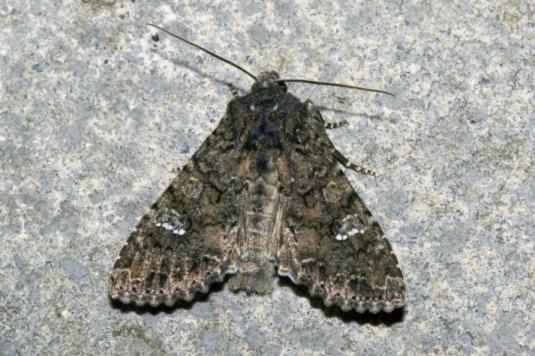 The similar Cabbage moth
Photo ©2007 Olaf Leillinger
Dot moth - Melanchra persicariae
Family - Noctuidae
The Dot moth is a very distinctive and recognisable species form its overall colouring and markings. Dark brown, almost black glossy forewings with a large white stigma or spot (resembling a kidney), from which the species gets its name. The hindwings are grey with a dark band at the wings edge (termen). Their wingspan is around 38–43mm (1.5–1.7in), it flies at night from July to August and like most moths it is attracted to light, sugar and flowers.
A common species in the UK (rare in Scotland) and Europe through to Japan in a range of habitats including suburban areas, woodland, fields, hedgerows, waste ground, roadside verges, meadow edges and gardens. Similar to and occasionally confused with the Cabbage moth – Mamestra brassicae (see photo below), which has a less distinct white patch and an overall array of lighter marbled markings, especially on the wing trailing edges (termen).
The larvae which are seen from August to October can be variable in colour with green, brown, purplish and pinkish forms. Like many caterpillars they are voracious feeders and will be seen both day and night. Reaching 45mm in length, there is a pale dorsal line and a series of thick green V–shaped marks on segments 4, 5 and 11 of the dorsum, that on the 11th segment is humped and marked with lighter diagonal markings.
It is a polyphagous species, feeding on a wide variety of plants including Broad Leaved Dock, Columbine, Creeping Thistle, Grey Alder, Ground–elder, Hawkweed, Hazel, Hop, Ivy, Holm Oak, Nettles, Rowan, Silver birch, White Clover, Willows and Yellow loosestrife, all of which will be found in Brickfields Park. They overwinter as a pupa.
The Dot moth is a UK Biodiversity Action Plan listed species for research purposes as it has undergone a marked decline in the last 25–30 years from many factors, including habitat change, pollution and the use of pesticides.
The Dot moth is part of the Noctuoidea superfamily which now comprises just over 11,000 species after reorganisation of the some 20,000 species that were originally in the group. Noctuidae are commonly known as Owlet moths, there are however only five Owlet moth species grouped in the Mesogona genus.
Agassiz #73.270, Bradley & Fletcher #2155
---
Site design ©1999– Brickfields Country Park - Privacy -