More photos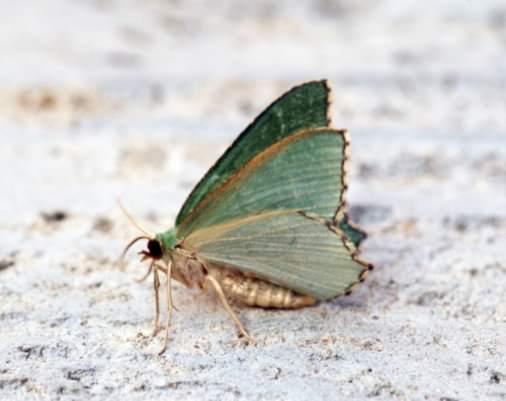 Photo ©2016 Erika Patko
Click any photo for a larger image
Common Emerald moth - Hemithea aestivaria
Family - Geometridae
This moth is a common species in the UK mainly to the south, also found in Europe and the near east, on various habitats including woodland, hedgerows, grassland, scrub, parks and gardens, occasionally on roadside verges. It is alleged to have been accidentally introduced and therefore alien to British Columbia. It is an overall uniform speckled light green although its colour tends to fade as they age, two pale yellow or white lines, alternate white and black fringing to the trailing edge on both wings. The underside of the forewings has a brown leading edge which in the rear wings is much paler. Both wings have a pale yellow and black scalloped edge with sub–marginal black banding. Wingspan is 30–35mm (1–1.4in). Seen on the wing during June and July, at dusk and during the night.
The caterpillar is green with reddish–brown banding, brown head and tail giving it the appearance of a dying twig so helping to keep it camouflaged. When young they feed on a great variety of plants, but as they age they feed more on trees and shrubs, they overwinter as a larva. Trees include Hawthorns, Blackthorn, Hazel, Oaks, Willows, Birches and other woody plants.
Could be confused with other Emeralds, notably the Sussex Emerald (right below) which is almost identical, however the Sussex has two points to the rear wings and more reddish chequering, whereas the Common Emerald only has one point and black chequering.
Agassiz #70.305, Bradley & Fletcher #1669
---
Site design ©1999– Brickfields Country Park - Privacy -