Photo ©2013–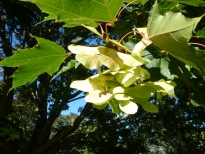 Photo ©2016 Zoya Akulova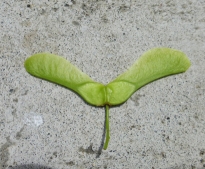 Photo ©2016 Zoya Akulova
Norway Maple - Acer platanoides
Family - Sapindaceae
Norway maple is a non–native deciduous UK species that is native to eastern and central Europe and western Asia, growing to 20–30m (65–98ft) tall on a trunk up to 1.5m (5ft) in diameter, bark is a shallow grooved grey–brown, its wood is a hard, yellowish–white used for furniture and turnery and reputedly for Stradivarius violins, it has poor resistance to rotting. opposite, palmately lobed leaves of five lobes (the tips of which are finely hairy), 7–14cm (3–5.5in) long and 8–20cm or 3–8in across, each lobe with 1–3 teeth and an otherwise smooth margin, on a petiole of the same length. Yellow flowers pollinated by insects, are 3–4mm (0.1–1.15in) long with five petals and five sepals in corymbs of 15–30, occur in early spring before the new leaves emerge, mature to a winged samara of two seeds aligned at around 120º.
Widely planted as a street and shade tree becoming popular due to the large–scale loss of Elms from Dutch elm disease. Norway Maple tends to produce leaves earlier and hold on to them longer in the autumn, along with heavy seed crops and high germination rates which contribute to its invasiveness, it is regarded as an introduced species in some areas, especially North America, that can successfully colonize a virgin forest. Many cultivars have been derived for distinctive their leaf shapes and colourations with dark purple, variegated, weeping and pale green forms available.
Frequently confused with Sugar Maple – Acer saccharum which has clear sap in the petiole whereas Norway Maple has white sap. Also confused with Sycamore with samaras at 90º, and Field Maple whose samaras are 180º or more and a pinkish colour, the samaras of Norway Maple are wider than either of these at over 200º.
---
Site design ©1999– Brickfields Country Park - Privacy -