Lichen - Lecanora symmicta
Lichen - Lecanora symmicta
Family - Lecanoraceae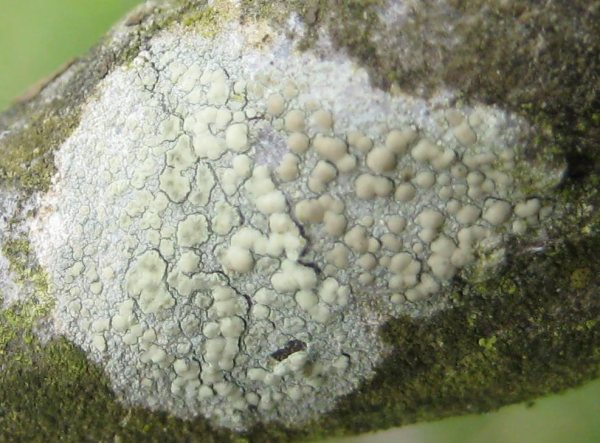 Picture ©2010 Fay Newbury
University of Reading
Click photo for a larger image
Many thanks to Fay Newbury at Reading University for the identification of this Lichen species – Lecanora symmicta.
A crustose lichen found on the bark of trees typically Birch, also occurs as a pioneer species on rough–barked twigs. Granular or areolate thallus, usually pale yellow–green but can be whitish or grey–green with an inconspicuous prothallus. Apothecia dispersed or clustered, discs flat to convex, cream, pinkish, pale orange or brown.
Noticeable because of the greenish discs that often cover its surface. Only the very youngest discs have a different colour edge to them. Easiest to find on trees that stand alone and therefore get more light on their bark.
Basic species description for Lichens, other Lichen species in Brickfields Park.
---
Site design ©1999– Brickfields Country Park - Privacy -