Lichen - Hypotrachyna revoluta
Lichen - Hypotrachyna revoluta
Family - Parmeliaceae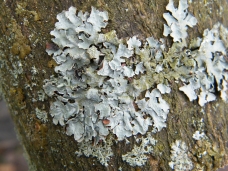 Picture ©2010 Fay Newbury
University of Reading
Click photo for a larger image
Many thanks to Fay Newbury at Reading University for the identification of this Lichen species – Hypotrachyna revoluta.
A grey "leafy" lichen that grows on bark. Widespread in Southern and Western Britain, mainly on branches of deciduous trees. A light grey foliose lichen, light grey in colour, lobes smooth and often shiny above, edges turned down and tinged tan–brown, soralia with pale grey to green, powdery soredia. Confused with H. afrorevoluta, which has only recently been described and may be more common.
Basic species description for Lichens, other Lichen species in Brickfields Park.
---
Site design ©1999– Brickfields Country Park - Privacy -