More photos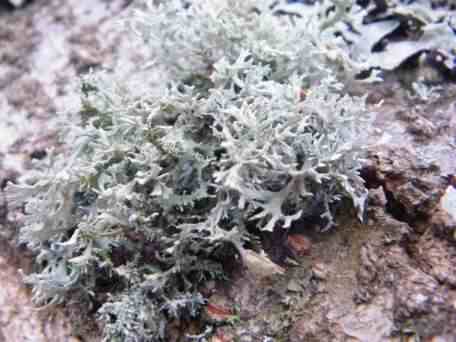 Photo ©2010–
Click for a larger image
Oakmoss Lichen - Evernia prunastri
Family - Parmeliaceae
Also known as - Stag Lichen
This lichen as its name might suggest grows mainly on the trunk and branches of oak trees, but will also be found on other deciduous trees and conifers. Found in north America, common in the UK, central Europe and much of the Northern Hemisphere, it ranges in colour from a green tinged white to green, with a paler underside, it appears darker when wet and can be almost black.
With a warty upper surface it is has a short bushy fruticose palmately branched looking thallus 3–8cm (1.2–3in) long resembling miniature deer antlers. It has been used extensively used in perfumery and is commercially harvested in some countries of Europe, with its odour depending on the tree type it is found growing on, EG. those on Conifers having a pronounced turpentine odour. Its use now is restricted due to skin sensitivity issues.
Basic species description for Lichens, other Lichen species in Brickfields Park.
FBCP do not advise or recommend that Oakmoss Lichen – Evernia prunastri is eaten or used as an herbal remedy. Oak moss contains a starchy component and compounds extracted from it have been used in drugs for treating external wounds and infections.
| | |
| --- | --- |
| Photos ©2010– | Click any photo for a larger image |
---
Site design ©1999– Brickfields Country Park - Privacy -