Toxic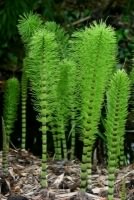 Photo ©2008 Rror
Click any photo for a larger image


Photo ©2007 Eugene Zelenko
Great Horsetail - Equisetum telmateia
Family - Equisetaceae
Also known as - Northern Giant Horsetail
This plant is toxic to livestock
Great Horsetail is an ancient herbaceous perennial related to ferns, growing as a single stem with multiple whorled branches, one of the tallest non–tropical Horestails. It produces separate fertile and sterile growths at slightly differing times. White and brittle sterile stems produced in late spring (May to October) are 1cm (0.4in) in diameter and 30–1.5m (12–60in) tall, are heavily branched with many whorls of up to 40 green branches giving it a conical fluffy outline, and are photosynthetic. The fertile non branched stems are also white but 2cm (0.8in) in diameter arise in early spring before the sterile growths to around 15–45cm (6–18in) tall, with a spore producing strobilus (cone) at the top, the spores dispersing in April soon after.
It has a strong vigorous growth with a root structure that can penetrate to some meters even in heavy soils, making it a difficult plant to eradicate. It is propagated by spore dispersal and by rhizomatous growth in shady damp places, waste ground, woodland and banks forming large areas. It is a Horsetail species with two sub–species in distinct geographical areas, E. telmateia ssp. telmateia in Eurasia and E. telmateia ssp. brauniiia in North America.
FBCP do not advise or recommend that Great Horsetail – Equisetum telmateia is eaten or used as an herbal remedy. Horsetails are diuretic. In animals they are very toxic resulting in the condition "equisetosis" which especially in horses can cause their death. Toxicity appears to be due to thiaminase enzymes, which can cause thiamine deficiency. An extract is often used to provide silica.
---
Site design ©1999– Brickfields Country Park - Privacy -