More photos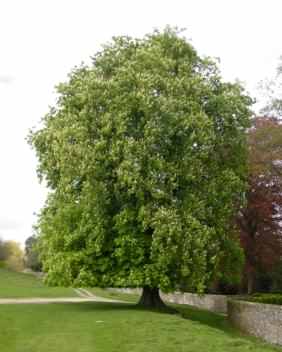 Photo ©2012–
Click for a larger image
Horse Chestnut - Aesculus hippocastanum
Family - Hippocastanaceae
This tree is poisonous
Grows to 35m (114ft) with a large spreading crown, common in North America, Europe and East Asia, however the Horse Chestnut is originally a native of Greece and Albania. palmately compound 5–7 obovate, toothed, unstalked leaflets to 30cm (12in) long, dark green turning yellow in the autumn. Bark reddish brown to grey and scaly. White flowers blotched yellow and/or red from large sticky buds, in large upright conical clusters to 30cm (12in) on the end of the branches, appear in April to June. Fruits are a green spiky nut containing 1–3 dark brown glossy seeds, commonly called "conkers". Related species have pink or rose coloured flowers. An introduced species as a decorative tree commonly found in avenues, parks, open fields and ornamental gardens.
Shortly after the millennium Horse Chestnut trees in the UK have been affected by a micro moth which damages the leaves turning them brown prematurely. The Horse Chestnut Leaf–miner is an invasive species spreading rapidly from the continent where it was first discovered in Greece in 1984, since then it has colonised most of western Europe.
FBCP do not advise or recommend that Horse Chestnut – Aesculus hippocastanum is eaten or used as an herbal remedy. All parts of tree contains Aesculin, a bitter, poisonous glycoside, especially the fruit. The name Horse Chestnut is thought to have come from the practice of adding flour made from ground conkers to the food of horses that had breathing difficulties. The "conker" derived its name from the game played with them called "conquer".

Photo ©2005 Soebe
Horse Chestnut Leaf-miner

Leaf damage →

All other Photos ©2012–

Click any photo for a larger image
---
Site design ©1999– Brickfields Country Park - Privacy -