More photos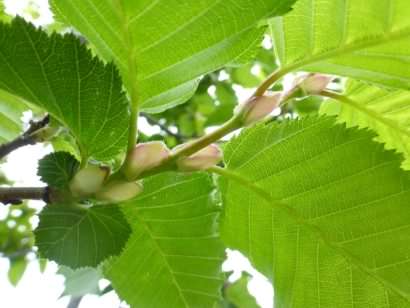 Photo ©2017 Z. Akulova
Click for a larger image
Hornbeam - Carpinus betulus
Family - Betulaceae
Also known as - European Hornbeam, Yoke Elm
Native to the south eastern U.K, Europe and Western Asia at low elevations but widely planted elsewhere, often coppiced or pollarded, Hornbeam is a deciduous and monoecious small to medium–size tree of shady areas that can be found in mixed stands with Oaks, and Beech. It is capable of growing to a height of 15–25m (49–82ft), occasionally 30m (98ft) in ideal conditions; it often has a fluted and crooked trunk with a greenish–grey bark. New buds are 10mm (0.4in) long, and appressed close to the twig. Alternate leaves are 4–9cm (1.6–3.5in) long, with a distinctive corrugated texture from prominent veins, and a serrated margin. It is monoecious with wind pollinated male and female catkins appearing in early summer after the leaves, they mature in the autumn to a small 7–8mm (0.28–0.31in) long nut, partially surrounded by a three–pointed leafy involucre. Female catkins develop into papery, green winged fruits known as samaras.
It has a dense foliage that is tolerant of pollarding and trimming back making it a popular tree in landscape gardening, tall hedges and topiary with several cultivars that have become popular in the U.K, with C. betulus "Fastigiata" gaining the Royal Horticultural Society's Award of Garden Merit. There is notable forest of Hornbeam, where it is a dominant tree species in Epping Forest, north of London in the UK Hornbeam is the food plant for various Lepidoptera including the Copper Underwing moth – Amphipyra pyramidea
Confused with Beech which both have similarly shape leaves - oval, toothed and with pointed tips. Hornbeam leaves, however, are smaller and more deeply furrowed with a doubly serrated leaf edge becoming a golden yellow or orange in the autumn. Hornbeam is an extremely hard and strong timber, pale creamy white with a flecked grain mainly used for furniture and flooring. Traditionally used for ox–yokes, tools, chopping blocks and gears in windmills and water mills.
FBCP do not advise or recommend that Hornbeam – Carpinus betulus is eaten or used as an herbal remedy. A tonic made from Hornbeam was said to relieve tiredness and exhaustion, whilst its leaves were apparently used to stop bleeding and heal wounds.

Photo ©2016 Z. Akulova

Photo ©2004 MPF

Photo ©2007 Willow

Click any photo for a larger image

Close window
---
Update - Hornbeam and possibly Purple Hornbeam have been found to be susceptible to Phytophthora fungal infections, similar to Sudden Oak Death, a disease caused by a fungus–like pathogen Phytophthora ramorum. Widespread in the U.S., with recent reports of the disease in the UK, mainly affecting many Oak species it has also been found on several other species, including Douglas fir and Camelia. Some species are prone to lethal trunk infections, whilst other plants are infected with supposedly more benign foliar and twig infections, with these foliar infections playing a key role in spread of P. ramorum by acting as an infected reservoir. Rhododendron spp. has been determined as a major source of P. ramorum. Mortality is most common where Oaks and these foliar hosts are found growing together.

For more information see the following links –

Royal Horticultural Society - Sudden Oak Death (Phytophthora ramorum) in the UK.
Forestry Commission - Phytophthora ramorum.
www.suddenoakdeath.org - California Oak Mortality Task Force.

---
Site design ©1999– Brickfields Country Park - Privacy -