More photos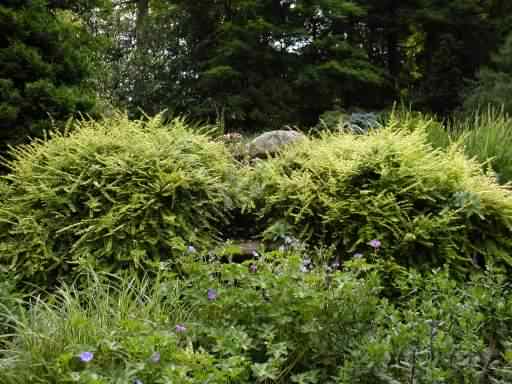 Cultivar "Baggesen's Gold"
Photo ©2007 SB_Johnny
Click any photo for a larger image
Toxic
Wilson's Honeysuckle - Lonicera nitida
Family - Caprifoliaceae
Also known as - Box Leaved Honeysuckle
Originally native to China, Lonicera nitida is a flowering evergreen garden plant in the Honeysuckle family, given the common names of Box honeysuckle or Wilson's honeysuckle. It is widely used as a hedging plant and occasionally for topiary and ground cover. It is a broadleaf shrub 1.2–1.5m (4–5ft) tall and 1.2–1.8m (4–6ft) wide with reddish–brown hairy stems (in some cultivars), small dark green opposite glossy leaves 6–16mm (0.24–0.63in) long. Widely used in hedge planting and topiary it will be seen in the wild as a naturalised escapee, readily establishing from dumped clippings.
Creamy white trumpet–shaped fragrant flowers in pairs in the leaf axils, seen at the end of spring are 5–7mm (0.2–0.28in) long, which mature to an inedible bluish–purple berry that is about 6mm (0.63in)in diameter. The flowers have glandular hairs on the outside of petals. The species is commonly confused with Cotoneaster species, however Cotoneaster has alternate leaves. The Latin epithet "nitida" means shining in reference to its glossy leaves. There are several cultivars "Maigrün", "Briloni" and "Baggesen's Gold" which has gained the Royal Horticultural Society's Award of Garden Merit.
FBCP do not advise or recommend that Wilson's Honeysuckle – Lonicera nitida is eaten or used as an herbal remedy. Wilson's Honeysuckle is not edible.
---
Site design ©1999– Brickfields Country Park - Privacy -