More photos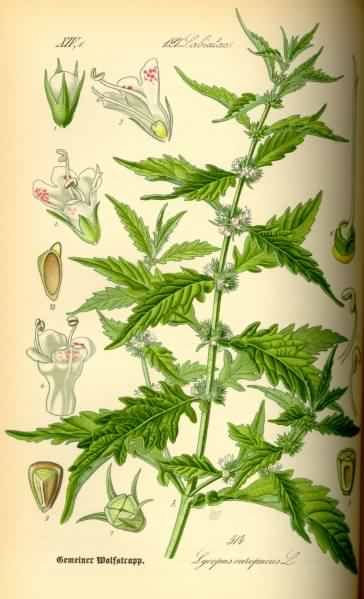 Image 1885 Dr. Otto Wilhelm Thomé
Click for a larger image
Gypsywort - Lycopus europaeus
Family - Lamiaceae
Also known as - Bugleweed, Water Horehound
Gypsywort is a straggly faintly hairy perennial plant native to the UK, Europe and Asia, and naturalized elsewhere in the world. Classified in the Lamiaceae group of flowering plants that includes Mint although Gypsywort is scentless, Dead–nettles and Sages. It grows to between 20–80cm (8–31in) from underground runners, with dark green veined toothed leaves, similar in appearance to that of Stinging Nettle, found in opposite pairs on a square stem
An inflorescence of dense whorls of white or pale pink flowers 4mm (0.16in) long with a fused tube, grows from the upper leaf axils. The flowers have two stamens and a red or dark mauve mark that is thought to attract many species of pollinating insects.
Gypsywort is a common plant which prefers wetland areas, stream sides, pond edges and marshes. It's rhizomatous root structures allows it to spread quickly and the seeds which float, allow Gypsywort to spread even further. Flowering throughout June - September, and seeding from August - October.
FBCP do not advise or recommend that Gypsywort – Lycopus europaeus is eaten or used as an herbal remedy. Alleged to have been used as an astringent, cosmetic, colourant and mild narcotic.
Photos ©2019–

Click for a larger image
---
Site design ©1999– Brickfields Country Park - Privacy -