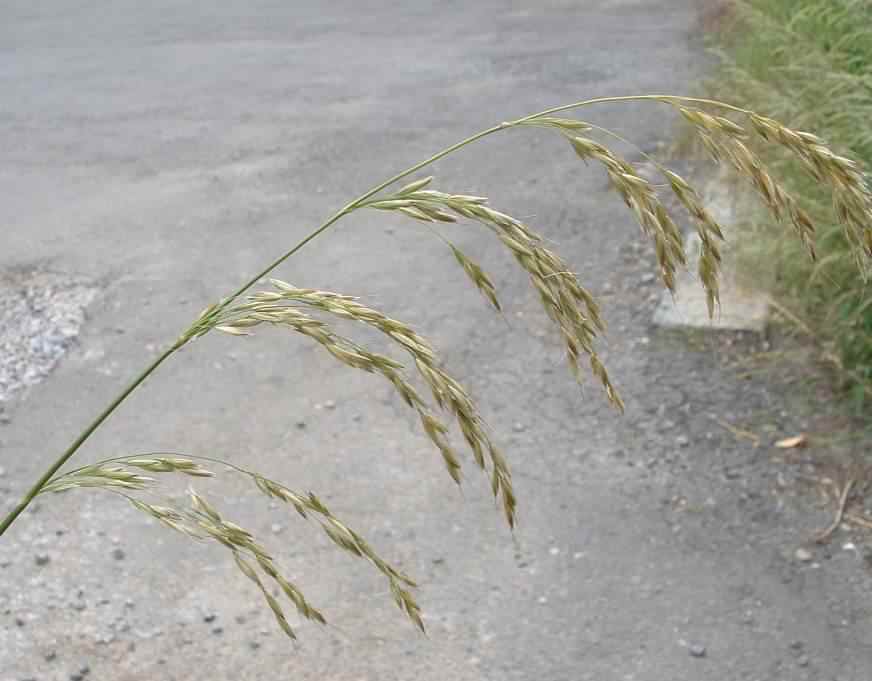 Photos ©2006–
Click any photo for a larger image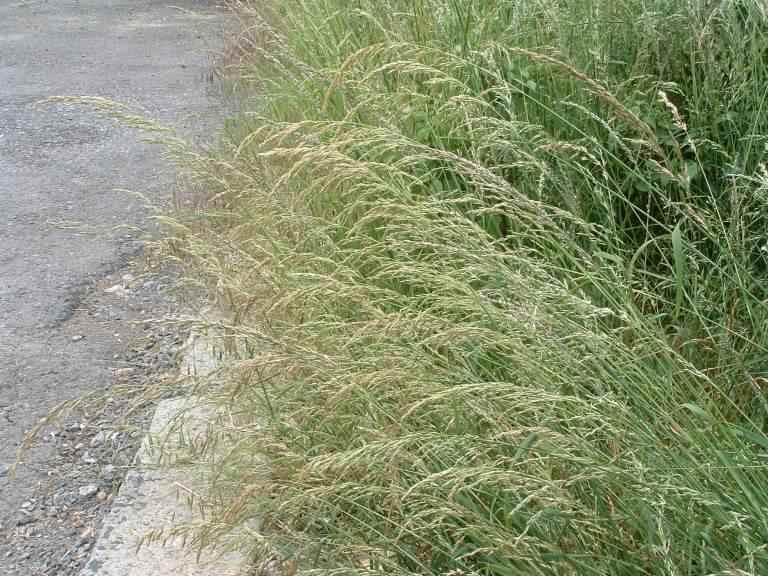 False Oat–grass - Arrhenatherum elatius
Family - Poaceae
Also known as - Tall Oat–grass, Button–grass
False Oat–grass is a very common and familiar perennial grass species, native and common to Europe but found elsewhere as an introduced species. It is found on road verges, along hedges and riverbanks and can colonise extreme habitats such as scree, bare cliffs, shingle and coastal dunes. Growing to 150cm (5ft) tall, with bright green broad slightly hairy and rough leaves. The ligule is 3mm (0.11in) long and smooth edged. The panicle is up to 30cm (12in), and the bunched spikelet have projecting and angled awns up to 17mm (0.7in) long, green or purple.
Flowering from June to September, it is a deep–rooted, drought–resistant species with open panicles resembling cultivated oats, although the seed is smaller. The roots are yellow. Wild forms resemble Wild Oat (Avena) or Fescue (Festuca). False Oat Grass can be a high–yielding hay containing high amounts of Phosphorus and Calcium, it is a palatable grass for livestock used both as forage and fodder providing abundant grazing, sometimes in mixtures of Orchard grass and Red Clover. A. elatius is a principle species in two UK National Vegetation Classification habitats (the widespread MG1 and rarer MG2, where it may be found with Cock's–foot – Dactylis glomerata.
Two subspecies have been described –

A. elatius ssp. elatius

, the more common variety.

A. elatius var. bulbosum

(also called

A. tuberosum

), Onion Couch or Tuber Oat–grass, distinguished by the presence of corms at the base of the stem, by which it propagates becoming a weed of arable land.
---
Site design ©1999– Brickfields Country Park - Privacy -