Photo ©2005 Rasbak
Click any photo for a larger image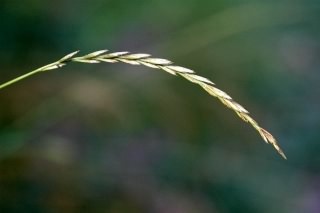 Photo ©2005 James K. Lindsey
Couch Grass - Elymus repens
Family - Poaceae
Also known as - Dog grass, Witch grass, Spear Grass
Couch Grass is a very common perennial species of grass native to most of Europe, Asia, and northwest Africa. It grows from a creeping rhizome structure enabling it to spread rapidly, and is listed as an invasive weed in some areas. Growing to 40–150cm (1.3–4.9ft) tall, the leaves are linear, 15–40cm (6–16in) long, 3–10mm (0.12–0.39in) broad at the base of the plant whilst leaves higher on the stems are narrower. The the self fertile flower spike is 10–30cm (3.9–11.8in) long, with spikelets 1–2cm (0.4–0.8in) long, 5–7mm (0.2–0.275in) broad and 3mm (0.12in) thick having three to eight florets which appear from the end of May through to August. The seed heads mature during August and September.
It will hybridise readily with other related grass and Barley species. Couch Grass is an important forage grass for some grazing mammals and the seeds are eaten by several species of grassland birds, particularly Buntings and Finches of which we have Chaffinch and Redpoll in Brickfields Park. The caterpillars of some Butterflies also use it as a foodplant, e.g. the Essex Skipper and the Speckled Wood Butterfly, both again Brickfields species.
Couch Grass has become naturalised throughout much of the world and can be very difficult to remove from the environment, as each piece of rhizome left in the ground can develop into a new plant in the same manner as Japanese Knotweed does.
---
Site design ©1999– Brickfields Country Park - Privacy -