Doves Foot Cranesbill - Geranium molle
Family - Geraniaceae
Also known as - Dove's–foot Geranium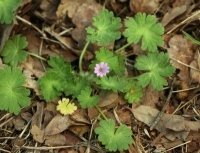 Click any photo for a larger image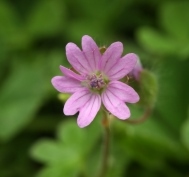 Photos ©2008 Steve Matson
A spreading ground cover herbaceous annual growing to 5–30cm (2–12in) high with many hairy branches, found in dry grassy places, roadside verges, hedges, banks and waste ground. Common and widespread in the UK and native to the Mediterranean, it is widely naturalised in other parts of the world, regarded as a noxious weed in Northwest America known as Awnless Geranium.
Palmate leaves are hairy and rounded with margins cut into 5–7 lobes on several ascending stems from basal rosette, upper leaves are sessile, rounded and hairy, with a long petiole of about 5–12mm (0.20–0.47in). Pairs of pink elongated heart shaped notched flowers of five petals sometimes giving the appearance of 10 petals, 5–12mm (0.25–0.5in) across, appear April - September. Hermaphroditic they are mainly pollinated by insects.
FBCP do not advise or recommend that Doves Foot Cranesbill – Geranium molle is eaten or used as an herbal remedy. It is said to be used as a treatment for internal and external injuries and a decoction in wine to relieve gout and other joint pains!!
Other species in the family –
Dove's–foot Cranesbill.
Geranium x oxonianum "Hollywood" - a commercial cross, with heavily veined large pink flowers.
Round Leaved Cranesbill –

G. rotundifolium

.
Rock Cranesbill –

G. macrorrhizum

.
Long Stalked Cranesbill –

G. columbinum

.
Wood Cranesbill –

G. sylvaticum

, with purple flowers.
Dusky Cranesbill –

G. phaeum

, has black/purple or brown flowers.
Meadow Cranesbill –

G. pratense

, with violet/blue lowers.
---
Site design ©1999– Brickfields Country Park - Privacy -